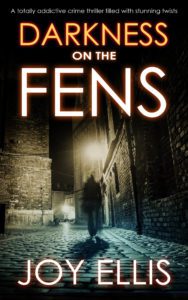 Darkness on the Fens is the 10th book in the Nikki Galena series and the first one that I have read. There are occasional references to events in previous books but this did not affect my enjoyment of this as a standalone book.
Greenborough is hosting a supernatural festival but someone has a dark plan. People are being murdered, suffering horrible pain through poisoning. There seems to be no connection between the victims so can the police find any common links to help them catch the killer…?
I enjoyed the mix of historical detail, professional police work and personal relationships that the book contained. Joy Ellis uses a lot of dialogue to forward the plot developments rather than long descriptions: this has the effect of making the characters more prominent and developed.
The main character, Nikki Galena, is an emotional but dedicated police officer. She is in a relationship with a fellow officer but this case pushes their love to the brink. I appreciated the loving but often frustrating relationship she has with her mother: very realistic!
There are clinical details of the murders but nothing graphic. Much of the drama is implied rather than explicit, leaving much to the reader's imagination or for embellishment in a later chapter. Again this was due to a focus on dialogue rather than description as a narrative form.
I have reviewed one of the books from Joy's other series The Stolen Boys
Darkness on the Fens (Nikki Galena #10) by Joy Ellis
Do you love addictive detective mysteries? Then try this book by a multiple #1 best-selling author now. You won't be able to put it down. It's a totally enthralling read.
A SERIAL KILLER ON A POISONOUS MISSION PUSHES NIKKI AND HER TEAM TO BREAKING POINT
Revellers are flocking into Greenborough for the yearly
D
ark Greenborough Festival, a three-day event celebrating local folklore, superstition and the darker side of life.
What the public doesn't know is that there has been a warning sent to the police, saying that Greenborough will be a very dangerous place this year. The anonymous letter ends with the Latin phras
e

,

Mors certa, hor

a

incert

a

:

Death is certain, the hour uncertain.
DI Nikki Galena and her team soon discover this is no hoax, as people start dying from what appears to be alcoholic poisoning. Things rapidly escalate, and as the deaths get more horrific, Nikki realises they have a serial killer in their midst.
A NIGHTMARE HUNT FOR A KILLER DURING THEIR BUSIEST TIME OF THE YEAR.
Full of twists and turns, this is a crime thriller that will keep you turning the pages until the heart-stopping ending.
This is book ten of the international best-selling books featuring Nikki Galena.
THE DETECTIVE
DI Nikki Galena: A police detective with nothing left to lose, she's seen a girl die in her arms and her own family destroyed. She's tough on criminals but fiercely loyal to her team.
HER PARTNER
DS Joseph Easter is the squeaky-clean member of the team. But his nickname "Holy Joe" belies his former life as a soldier. He has a daughter and an ex-wife who wants his attention.
THE SETTING
The Lincolnshire Fens: great open skies brood over marshes, farmland, and nature reserves. It is not easy terrain for the Fenland Constabulary to police, due to the distances between some of the remote fen villages, the dangerous and often misty lanes, and the poor telephone coverage. There are still villages where the oldest residents have never set foot
outside their own farmland and a visit to the nearest town is a major event. But it has a strange airy beauty to it, and above it all are the biggest skies you've ever seen
DISCOVER YOUR NEXT FAVOURITE MYSTERY SERIES NOW
Perfect for fans of Rachel Abbott, Robert Bryndza, Mel Sherratt, Angela Marsons, Colin Dexter, or Ruth Rendell.
ALSO BY JOY ELLIS
THE NIKKI GALENA SERIES
Book1: CRIME ON THE FENS
Book 2: SHADOW OVER THE FENS
Book 3: HUNTED ON THE FENS
Book 4: KILLER ON THE FENS
Book 5: STALKER ON THE FENS
Book 6: CAPTIVE ON THE FENS
Book 7: BURIED ON THE FENS
Book 8: THIEVES ON THE FENS
Book 9: FIRE ON THE FENS
Book 10: DARKNESS ON THE FENS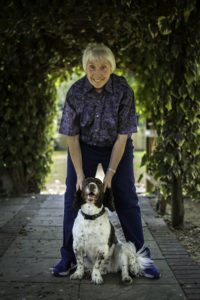 JOY ELLIS – Author Bio
UK #1 Best Seller with THEIR LOST DAUGHTERS and THE FOURTH FRIEND
Over 1 million books sold!
"I was born in Kent but spent most of my working life in London and Surrey. I was an apprentice orist to Constance Spry Ltd, a prestigious Mayfair shop that throughout the sixties and seventies teemed with both royalty and 'real' celebrities. What an eye-opener for a working-class kid from the Garden of England! I swore then, probably whilst I was scrubbing the oor or making
the tea, that I would have a shop of my own one day. It took until the early eighties, but I did it. Sadly the recession wiped us out, and I embarked on a series of weird and wonderful jobs; the last one being a bookshop manager.
Surrounded by books all day, getting to order whatever you liked,
and

being paid for it! Oh bliss!
And now I live in a village in the Lincolnshire Fens with my partner, Jacqueline, and our four Springer spaniels. I had been writing mysteries for years but never had the time to take it seriously. Now I write full time, and as my partner is a highly decorated retired police o2cer; I 3nd I have an in- house consultant on hand to make sure that the police and judicial procedure
is correct. She also makes very good tea! I have set my crime thrillers here in the misty fens because I sincerely love the remoteness and airy beauty of the marshlands. This area is steeped in superstitions and lends itself so well to murder!