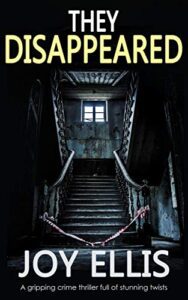 Urban explorers, also known as urbexers, have been disappearing whilst out exploring abandoned buildings. No noise, no sign of a struggle, they just disappear. Jackman and Evans begin the investigation into the missing men but then gruesomely displayed bodies are discovered and a murder case ensues. Meanwhile in the police headquarters, the head of IT, Orac disappears. Is this linked to her mysterious past and secret identity?
They Disappeared is the 7th book in Joy Ellis' Jackman and Evans series. It would work as a stand alone novel but the relationships between the officers, their personal histories and the cases they have previously worked on are included.
There is a lot of build up to the crimes. We are introduced to the hobby of urban exploring as well as finding out more about Orac's past. Bodies are not found until half way through the book and I did find the pace a little slow in the first half of the book. The descriptions are vivid and creates a fanstastic atmosphere of suspense. The abandoned sites build anticipation and dread, and the mystery of an old airfield is intriguing.
There is a naturalness to the characters which draws in the reader as we feel an affinity with them. I was a little disappointed that pathologist Rory didn't shine as prominently as previous books. This time it was Orac who held centre stage as we discover more about her astonishing past, both personal and professional.
Overall, They Disappeared was an enjoyable police thriller, and it was good to catch up with Jackman and Evans and their team.
I have reviewed several of Joy's books before (see the purple highlighted titles below)

THEY DISAPPEARED (Jackman & Evans #7) by Joy Ellis
FROM #1 BEST-SELLING AUTHOR JOY ELLIS, A TOTALLY ABSORBING CRIME THRILLER FULL OF STUNNING TWISTS AND TURNS.
Discover the author who's sold over two million books globally.
Detectives Rowan Jackman and Marie Evans are told that their IT boss has disappeared. They soon suspect foul play. Orla Cracken, known as Orac, is no ordinary techie; she was once a field agent traveling abroad undercover, working for the government.
Meanwhile DC Robbie Melton discovers that two people, both urban explorers, have mysteriously disappeared while out exploring abandoned buildings. One went missing at a disused airfield, but was it a military base, or was it civilian?
The gruesome discovery of their decaying bodies found hanging in ancient church ruins bursts the case wide open, and Jackman and Evans are under pressure to find the killer.
It soon becomes clear that the murderer is targeting urban explorers, but why is he determined to track down and torture these innocent people, and how is the case connected to Orac's mysterious past, still shrouded in secrecy?
THE LATEST CRIME THRILLER BY JOY ELLIS, SET IN THE LINCOLNSHIRE FENS, WILL KEEP YOU GUESSING — AND YOUR PULSE RACING— UNTIL THE VERY END.
What readers are saying about Joy Ellis
"Another breathtaking thriller from Joy." Carole
"Great read from start to finish." Nerys
"Just a wonderful enjoyable read." Nicki
"A hugely compelling police procedural, with twists and turns that raise tension and suspense." Paromjit
"All the twists and turns kept me reading." Viv
"Another great book from Ms Ellis." Barbara
Perfect for fans of Rachel Abbott, Sarah A. Denzil, Robert Bryndza, Mel Sherratt, Angela Marsons, Colin Dexter, or Ruth Rendell.
THE DETECTIVES
DI Jackman leads the investigation. He is extremely smart and has a knack for bringing out the best in his diverse team. DS Marie Evans is haunted by the loss of her husband in a motorbike accident. She is fiercely loyal to her friends and colleagues.
ALSO BY JOY ELLIS
THE NIKKI GALENA SERIES
Book 1: CRIME ON THE FENS
Book 2: SHADOW OVER THE FENS
Book 3: HUNTED ON THE FENS
Book 4: KILLER ON THE FENS
Book 5: STALKER ON THE FENS
Book 6: CAPTIVE ON THE FENS
Book 7: BURIED ON THE FENS
Book 8: THIEVES ON THE FENS
Book 9: FIRE ON THE FENS
JACKMAN & EVANS
Book 1: THE MURDERER'S SON
Book 2: THEIR LOST DAUGHTERS
Book 3: THE FOURTH FRIEND
Book 4: THE GUILTY ONES
Book 7: THEY DISAPPEARED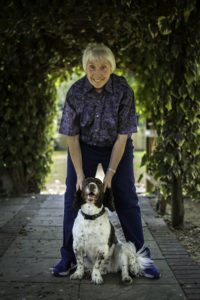 JOY ELLIS
UK #1 BEST SELLER WITH THEIR LOST DAUGHTERS, DARKNESS ON THE FENS, THE FOURTH FRIEND, BEWARE THE PAST, FIRE ON THE FENS, AND THE GUILTY ONES
OVER 2 MILLION BOOKS SOLD!
"I was born in Kent but spent most of my working life in London and Surrey. I was an apprentice florist to Constance Spry Ltd, a prestigious Mayfair shop that throughout the sixties and seventies teemed with both royalty and 'real' celebrities. What an eye-opener for a working-class kid from the Garden of England! I swore then, probably whilst I was scrubbing the floor or making the tea, that I would have a shop of my own one day. It took until the early eighties, but I did it. Sadly the recession wiped us out, and I embarked on a series of weird and wonderful jobs; the last one being a bookshop manager. Surrounded by books all day, getting to order whatever you liked, and being paid for it! Oh bliss!
And now I live in a village in the Lincolnshire Fens with my partner, Jacqueline, a highly decorated retired police officer, and our four barking mad Springer spaniels. If I do get any spare time, which is rare these days, my one relaxation is painting, especially using soft pastels. We have been here for twenty years now and although I'll never be a true 'Yeller Belly', a native born to this county, I have adopted it as my own. I love the mists, the big skies and the endless waterways. All my books are set here on the Fens, and why not? The location is perfect for murder!"
OTHER BOOKS BY JOY ELLIS
MATT BALLARD SERIES:
BEWARE THE PAST
FIVE BLOODY HEARTS
STANDALONE NOVELS:
GUIDE STAR
FIND JOY ON