Christie visits the fens to conduct research for her employer's book. She stays with her cousin Liz and partner Matt, retired cops now private investigators. The couple are investigating a woman's disappearance and are then invited by the police to help with a murder enquiry. But Christie soon provides them with another case…
Marshlight is the fourth book in Joy Ellis' Matt Ballard series but it can be easily read as a stand alone novel.
Matt and Liz have failed to locate their friend's missing sister and now their latest case is a murder. However, this plot takes second place as the main plotline for this novel emerges: the majority of the first half of the book is dedicated to Christie and her developing friendships and antagonistic relationship with the locals. As a result of Christie's interactions, she is involved when a woman goes missing.
Christie and the range of local characters provide a new dynamic as personal politics are established. Gina is a fabulous character that it perfect for us to love to hate and we share Christie's suspicions about her behaviour. This is explored over the first half of the book to allow plot developments in the second half when the disappearance occurs and is investigated.
The setting of the Fens is vividly brought to life with Christie's excursions to research the area for her employer's book. The atmosphere created by the curious light phenomenon is unsettling and provides a great backdrop to the muliple plotlines.
Marshlight is an enjoyable mix of psychological and crime thriller. I have read and reviewed book 3 in this series, The Dying Light. Take a look at the blue links in the list at the end of this blog post for my reviews.

MARSHLIGHT (Matt Ballard #4)
A new psychological thriller from bestselling author and British Book Awards Crime & Thriller of the Year nominee Joy Ellis.

MATT AND LIZ MAY HAVE RETIRED FROM THE POLICE, BUT THAT DOESN'T MEAN A QUIET LIFE.

An old friend's sister disappears without a trace. There's no sign of foul play, but she'd been acting very peculiarly . . .

Meanwhile, Liz's cousin Christie comes to stay. She takes an immediate — and uncharacteristic — dislike to the local bookshop owner, Gina. Why does everyone put up with her awful behaviour?

HUNTING WILL-O'-THE-WISPS ON THE MARSHES CAN BE A VERY DANGEROUS HOBBY.

Christie is convinced that Gina is manipulating everyone around her. Is she onto something dangerous or just pushing her new friends away?

No one believes her suspicions until another friend goes missing late at night on the misty Fen marshes.

Can Matt and Liz uncover the truth in time to save lives?

DISCOVER A TOTALLY ENTHRALLING PSYCHOLOGICAL THRILLER

What readers are saying about JOY ELLIS:

"The suspense starts on page 1 and continues through the twists and turns until the very surprising ending." Linda Strong

"OMG, this book was fantastic. I absolutely loved it. I was gripped from the first page, but as the tension and suspense mounted throughout the book it just got better and better. And that ending, well, just WOW!" Dawn

"I absolutely loved it." Viv

"Will keep you guessing until the end of the book." Barbara

"What a book!!!" Sian

"I was so engrossed I sat up way too late to finish it in one sitting." Elaine

THE SETTING
England's rural fenland is a strange place, with its never-ending fields, winding tracks, and long straight droves (the old livestock routes) that lead to nowhere. The lonely lanes are flanked either side by deep drainage ditches and are, for a good part of the year, filled with tall, whispering reeds. Closer to the Wash, high seabanks form a barrier between river and marsh, and the richly fertile soil of the drained land. But when the mists come down, as they so often do, perspective is destroyed and all sense of direction lost, and then the fens become a rather frightening place of mystery and danger. Somewhere that you do not want to be at night.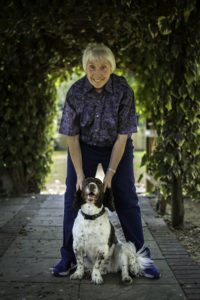 JOY ELLIS
UK #1 BEST SELLER WITH THEIR LOST DAUGHTERS, DARKNESS ON THE FENS, THE FOURTH FRIEND, BEWARE THE PAST, FIRE ON THE FENS, AND THE GUILTY ONES
OVER 2 MILLION BOOKS SOLD!
"I was born in Kent but spent most of my working life in London and Surrey. I was an apprentice florist to Constance Spry Ltd, a prestigious Mayfair shop that throughout the sixties and seventies teemed with both royalty and 'real' celebrities. What an eye-opener for a working-class kid from the Garden of England! I swore then, probably whilst I was scrubbing the floor or making the tea, that I would have a shop of my own one day. It took until the early eighties, but I did it. Sadly the recession wiped us out, and I embarked on a series of weird and wonderful jobs; the last one being a bookshop manager. Surrounded by books all day, getting to order whatever you liked, and being paid for it! Oh bliss!
And now I live in a village in the Lincolnshire Fens with my partner, Jacqueline, a highly decorated retired police officer, and our four barking mad Springer spaniels. If I do get any spare time, which is rare these days, my one relaxation is painting, especially using soft pastels. We have been here for twenty years now and although I'll never be a true 'Yeller Belly', a native born to this county, I have adopted it as my own. I love the mists, the big skies and the endless waterways. All my books are set here on the Fens, and why not? The location is perfect for murder!"

ALSO BY JOY ELLIS
THE BESTSELLING NIKKI GALENA SERIES
Book 1: CRIME ON THE FENS
          2: SHADOW OVER THE FENS
3: HUNTED ON THE FENS
          4: KILLER ON THE FENS
          5: STALKER ON THE FENS
          6: CAPTIVE ON THE FENS
          7: BURIED ON THE FENS
          8: THIEVES ON THE FENS
          9: FIRE ON THE FENS
        10: DARKNESS ON THE FENS
        11: HIDDEN ON THE FENS
        12: SECRETS ON THE FENS

JACKMAN & EVANS
Book 1: THE MURDERER'S SON
          2: THEIR LOST DAUGHTERS
          3: THE FOURTH FRIEND
          4: THE GUILTY ONES
5: THE STOLEN BOYS
6: THE PATIENT MAN
          7: THEY DISAPPEARED

DETECTIVE MATT BALLARD
Book 1: BEWARE THE PAST
          2: FIVE BLOODY HEARTS
          3: THE DYING LIGHT
          4: MARSHLIGHT

STANDALONES
GUIDE STAR