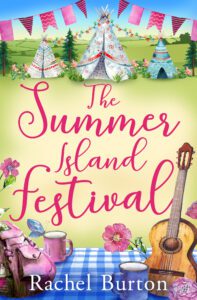 Willow jilts her fiance at the altar and returns to her home town to try to decide what do do with her life. She has rarely returned to the Isle of Wight since leaving 12 years ago with a heart broken by her first love Luc. She is shocked to find he has also returned to the island following a career crisis. Can love heal them both or will their secrets get in the way?
The Summer Island Festival is a warm romance novel set in two timelines: the 1980s/90s and the present day (2018).
Willow and Luc both return to the Isle of Wight and get pulled into the community that they shunned when they were 18. They are determined to save the folk music festival that Willow's mum Cathy organises. Meanwhile they also need to reassess their own lives and follow their hearts.
In the second timeline we see Cathy as she leaves home to follow a musician on tour. This allows us to make connections and assume outcomes of the past which will impact on the present day. It saddened me that both Cathy and Willow were treated badly by men yet they couldn't turn to each other.
I enjoyed the musical focus of the book and wanted to know if Gamble Gold is a real song! It is! Music permeates through both timelines but family is another important theme, finding people who connect with our true selves. There is also an important message about loving, accepting and respecting ourselves before we trust others to do the same.
The Summer Island Festival is an enjoyable romantic novel about second chances and finding your own happiness in life instead of blaming or relying on others for your choices.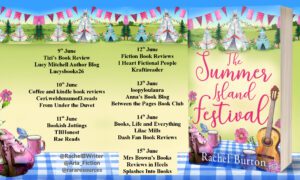 The Summer Island Festival
When Willow walks out on her own wedding, there's only one place she can go…
Growing up in the island village of Seaview, Willow always dreamed of a bigger life. Then her childhood sweetheart Luc betrayed her and she ran, resolving never to look back. Now, twelve years on, her glamorous London life is a mess and the island is her only option.
But she's not the only one back for the summer. Luc is now a world-famous heartthrob musician, and he's finally come home to headline the Isle of Wight's annual music festival.
As Willow untangles her messy past, she stumbles on a secret that could destroy her family, the island's fragile community – and her second chance at love…

Purchase Links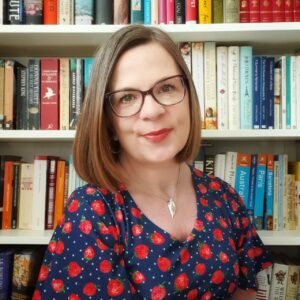 Author Bio –
Rachel Burton has been making up stories for as long as she can remember and always dreamed of being a writer until life somehow got in the way. After reading for a degree in Classics and another in English Literature she accidentally fell into a career in law, but eventually managed to write her first book on her lunch breaks.
She has spent most of her life between Cambridge and London but now lives in Yorkshire with her husband and their three cats. She loves yoga, ice hockey, tea, The Beatles, dresses with pockets and very tall romantic heroes.
Find her on Twitter & Instagram as @RachelBWriter or follow her blog at rachelburtonwrites.com. She is always happy to talk books, writing, music, cats and how the weather in Yorkshire is rubbish. She is mostly dreaming of her next holiday….