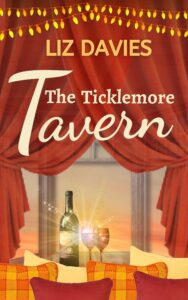 Logan runs the Ticklemore Tavern. Violet is a purple haired gin distiller. She sees an opportunity to sell her gin in his pub but the spark between them in unmistakable. However, Logan's mother Marie is set against the pair getting together, pitting the two women against each other and Logan stuck in the middle…
The Ticklemore Tavern is a warm and light hearted romance novel. It is the fourth book in the Tickelmore series by Liz Davies but the first book that I have read.
Violet and Logan are both really likeable characters and I wanted them to get together as a couple. Both are hard working and have put the needs of others ahead of themselves. They are well liked by other characters in the book.
My feelings towards his mum Marie were much more mixed and complex. As a mum myself, I can imagine that I will be a nightmare for any dates my children have. Their happiness is the most important thing but mistakes along the way are inevitable. We cannot protect them from everything and learnng to let go is really hard!
I found myself torn as I felt angry that Marie's headaches are used as a weapon to control and manipulate her son. But then in the next instant I gave her the benefit of the doubt and felt sympathetic as I imagined the fear and sorrow of facing the future and a possible serious illness alone.
The Ticklemore Tavern is a really enjoyable read and the autumnal setting has got me ready for the new season! Off to find some flavoured gin…!

The Ticklemore Tavern
Violet makes her own gin.
Logan Cassidy sells it in his pub, The Ticklemore Tavern.
It should have been a match made in heaven, especially since the pair of them fancy the socks off each other, and they are both young, free and single.
Except…
Logan's mum, Marie, doesn't think Violet is good enough for her son. No woman is, or ever will be. And when she becomes ill, Logan is torn between looking after his mum or following his heart.
However, neither Logan, nor Marie, has taken the sheer force of nature that is Violet into account. What Violet wants, Violet gets.
Usually…
But maybe not this time, eh?
Purchase Links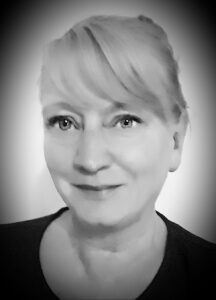 Author Bio –
Liz Davies writes feel-good, light-hearted stories with a hefty dose of romance, a smattering of humour, and a great deal of love.
She's married to her best friend, has one grown-up daughter, and when she isn't scribbling away in the notepad she carries with her everywhere (just in case inspiration strikes), you'll find her searching for that perfect pair of shoes. She loves to cook but isn't very good at it, and loves to eat – she's much better at that! Liz also enjoys walking (preferably on the flat), cycling (also on the flat), and lots of sitting around in the garden on warm, sunny days.
She currently lives with her family in Wales, but would ideally love to buy a camper van and travel the world in it.
Social Media Links –