Catholic priest Marco Venetti finds himself trying to save the Pope and Vatican from nuclear attack. But once again his faith is tested to the utmost as well as his humanity…
The Vatican Secret is the sequel to The Vatican Conspiracy and is the second book to feature Marco Venetti. There are some references to events in the first book so I would advise reading them in order or reading this as a stand alone. The relationships between Marco and some of the other characters also relate to developments in the previous book.
This book's premise is that the radical Pope wishes to unite Eastern and Western Catholicism but a Russian crime boss wants to prevent this from happening. Meanwhile there is a traitor within the Vatican working against the Pope. Can Marco trust those who feed him information or even those he fights beside?
Marco has problematic and mistrustful relationships with Elena and Sarah. He relies on them to save him but his emotions are in turmoil due to physical attraction and personal history. His emotions make him a more realistic and believable character, but his faith and priesthood force him to deny his feelings.
There is plenty of drama and action as Marco races against the Pope's enemies. His life is frequently in danger so the tension is high. There is also the mystery about who the traitor is and what motivates them. The settings range across the globe as political, criminal and personal actions impact on the plot.
The Vatican Secret was a fast paced and action driven novel with an engaging lead character.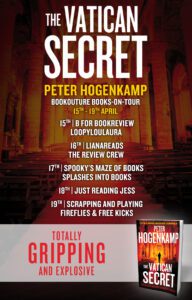 PETER HOGENKAMP Media Kit:
Title: The Vatican Secret
Author:  Peter Hogenkamp
PUBLICATION DAY: April 15th 2021
BUY LINK:
Description:
There is a nuclear weapon in the hands of the Vatican City's deadliest enemy. And time is running out to stop an attack…
Marco Venetti, the only man the pope trusts, has tracked down the traitor who nearly succeeded in his mission to kill the pope. But the traitor holds a crucial piece of information: the name of the Russian mafioso in possession of a nuclear bomb.
Forced to work with a man he despises to prevent a deadly explosion, Marco sets a trap for the Russians. Inside the stone walls of an ancient castle in Portugal, surrounded by high mountains, he waits to ambush his target. But a double-cross ruins everything and he must flee, alone and without backup, leaving a trail of death and destruction behind.
All Marco knows is that the attack is imminent. And that to prevent it, he must enter a deadly game of cat-and-mouse that will take him across the continent, on land and by sea. With time running out, he will stop at nothing to uncover the truth. Because the secrets inside the Vatican may be the deadliest threat of all…
The Vatican Secret is an explosive thriller full of treachery, international conspiracy and non-stop action. Fans of Joel C. Rosenberg, Tom Clancy and Steven Konkoly will be completely gripped.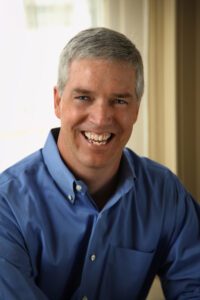 Author Bio:
Peter Hogenkamp was born in upstate New York and attended the College of the Holy Cross in Worcester, Massachusetts. (Go Crusaders!) He graduated in 1986 and was exiled to Europe for three years by his premedical adviser, for which he will be grateful the rest of his days. Spending the next three years – supposedly – teaching chemistry and algebra in Salzburg, Austria, he traveled extensively, drank a lot of beer and made many a lifelong friend. In his travels, he found dozens of great places for scenes in a thriller: castles perched on cliffs; monasteries tucked away in alpine valleys; villages built above rocky coastlines; cities soaked in history. When he isn't writing or hiking with his strong-willed Cairn Terrier, Hermione, Peter practices medicine with his lovely wife, Lisa (who does most of the heavy lifting), hosts Your Health Matters, which airs on cable television, streams on YouTube and sounds off on podcast, and tends to the needs of his four children.
Author Social Media Links: