Four lifelong friends plan to see out bat fever in a secret bunker but will they all survive long enough to get there? And once there, a murderer is on the loose in the village…
Amidst the coronavirius pandemic, this book is scary! Set in the same reality as the Project Renova books, The Visitor is a stand alone novel set in 2024. Coronavirus has been and gone, the world recovered. But the new disease is much more deadly and every case is fatal. The politics of the original books are still there with the vaccine programme (again, scary given the current situation!)
The Visitor is written from Jack and Avalon's first person perspectives as well as various other third person viewpoints. This allows us to understand and feel their emotions as their loved ones die and they adjust to life in the village. The Visitor also has their own first person chapters so we anticipate their next move…
The murder mystery is a fascinating plot device which stands this book apart from the other Project Renova books. The fear and suspicion adds an extra element to the plot and provides extra character development. It engages the reader as we try to figure out who the mysterious Visitor could be and deduce their motive.
Terry Tyler is such a clever writer as she plays to our fears and makes her characters and situations very realistic. She has used the current coronavirus pandemic to underscore her plot and it supports our understanding of the events, motives and actions of each character we encounter.
The Visitor is fast paced yet the sinister build up to the murderous events is not rushed. The danger from the virus as well as from others within and outside the community is completely absorbing.
I have previously reviewed other Terry Tyler books including Blackthorn, Tipping Point and Hope.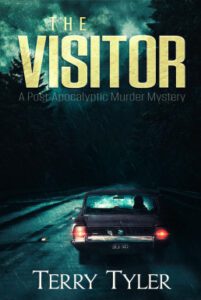 The Visitor
Publication Date: November 5th, 2020
Genre: Post-Apocalyptic Murder Mystery
In 2024, a mystery virus ravages the entire world. 'Bat Fever' is highly contagious and a hundred per cent lethal.
A cottage tucked away in an isolated Norfolk village seems like the ideal place to sit out a catastrophic pandemic, but some residents of Hincham resent the arrival of Jack and his friends, while others want to know too much about them.
What they don't know is that beneath their cottage is a fully-stocked, luxury survival bunker. A post-apocalyptic 'des res'.
The village isolates itself from the rest of the country, but the deaths continue―and not from the virus. There's a killer on the loose, but is it a member of the much depleted community, or someone from outside? As the body count rises, paranoia sets in; friend suspects friend, and everyone suspects the newcomers.
Most terrifying of all is that no one knows who's next on the list…
About the Author
Terry Tyler is the author of twenty-one books available from Amazon, the latest being 'Wasteland', the sequel to 'Hope'. She is currently working on 'The Visitor', a post-apocalyptic murder mystery set in the same world as her Project Renova series. Proud to be independently published, she is also an avid reader and book reviewer, and a member of Rosie Amber's Book Review Team.
Terry is a Walking Dead addict, and has a great interest in history (particularly 14th-17th century), and all things post-apocalyptic/sociological/cultural/anthropological, generally. She loves South Park, Netflix binges, and going for long walks in quiet places where there are lots of trees. She lives in the north east of England with her husband.