TRIGGER WARNING : miscarriage
1682: Grace is a milkmaid but her grandmother is something of a wise woman and wants to teach her about herbs and healing. Present day: Selena's love life is in tatters after a confrontation with her lover's wife and she miscarries. She retreats to a thatched cottage to paint and heal her heart.
The Witch's Tree is a dual timeline novel set in Somerset in the present day and the 1680s. The book jumps between the two time periods within each chapter yet the narratives are distinct and easy to follow.
Both women live in Sloe Cottage, separated by over 300 years. I found myself completely immersed in both timelines. The two main characters are brought to life with realism and humanity so it was easy to understand their feelings and actions. Selena in the present day increasingly suspects a supernatural presence and as the plot develops we fear for Grace's safety in the 1680s. I wrote my dissertation on witchcraft so it is a topic and era that I know a lot about.
Some of the 1600s dialogue seemed a little clunky and I felt that there were some added historical details which were irrelevant to the plot and character development but showed the author's research (for example, a discussion about monarchs). However, the women's lives are wonderfully brought to life through the emotive descriptions of their experiences and the vivid imagery of the landscape.
The Witch's Tree was a beautifully woven tale of two wonderful women and I loved it!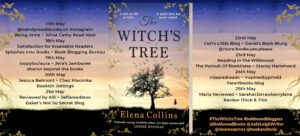 The Witch's Tree
A tale as old as time. A spirit that has never rested.
Present day
As a love affair comes to an end, and with it her dreams for her future, artist Selena needs a retreat.  The picture-postcard Sloe Cottage in the Somerset village of Ashcombe promises to be the perfect place to forget her problems, and Selena settles into her new home as spring arrives.  But it isn't long before Selena hears the past whispering to her. Sloe Cottage is keeping secrets which refuse to stay hidden.
1682
Grace Cotter longs for nothing more than a husband and family of her own. Content enough with her work on the farm, looking after her father, and learning the secrets of her grandmother Bett's healing hands, nevertheless Grace still hopes for love. But these are dangerous times for dreamers, and rumours and gossip can be deadly. One mis-move and Grace's fate looks set…
Separated by three hundred years, two women are drawn together by a home bathed in blood and magic. Grace Cotter's spirit needs to rest, and only Selena can help her now.

Author Bio –
Elena Collins is the pen name of Judy Leigh. Judy Leigh is the bestselling author of Five French Hens, A Grand Old Time and The Age of Misadventure and the doyenne of the 'it's never too late' genre of women's fiction. She has lived all over the UK from Liverpool to Cornwall, but currently resides in Somerset.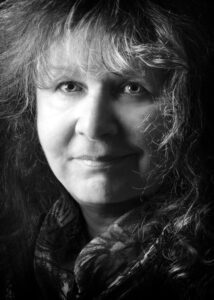 Social Media Links.