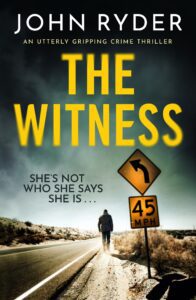 Savannah has gone into witness protection to save her life but now she is threatened. Her mother hires private investigator Kyle Roche to track down Savannah and protect her. Can he find her and keep her alive past the deadline…?
The Witness is an action packed crime thriller set in the US. There is plenty of tension and anticipation as events unfold. The book does contain violence but at a level that I'd expect from this genre and it was not gratuitous.
Savannah is struggling to cope with the drastic changes necessary once she is put in witness protection. She misses her family and past life and can't adapt easily to her new identity. Her life is in danger after she testifies at a trial and her mother is told that Savannah will be dead by noon on Monday.
Enter Kyle Roche, private eye…!
I loved the character of Roche. He is blunt and has a wonderful turn of phrase using portmanteau word such as 'monutastically'. This makes him human and realistic. He is ruthless when he has to be but doesn't injure or kill unless it is necessary.
Roche's natural instincts make him suspicious of Savannah and believes she is hiding something from him. This adds an extra element to the plot as he muses on her behaviour to try to understand it. He is determined to keep her alive at all costs and is frustrated that she doesn't follow his instructions designed to save her!
The Witness rattled along at a relentless pace, fraught with danger, action and violence.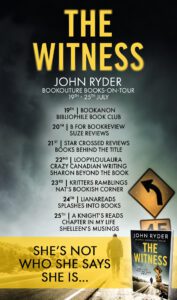 MEDIA PACK
Book: The Witness
Author: John Ryder 
Pub Day: July 19th 2021
Buy Link 
About the Book: 
"Find my daughter in twenty-four hours. Or she's dead."
Kyle Roche is a man whose job it is to stay invisible. Dark, mysterious, and only sometimes on the right side of the law, only a lucky few know how to reach him: Kyle can fix their problems, however dangerous.
Now he's been hired to save a woman in Witness Protection, one who doesn't officially exist anymore. But before he can keep her safe, he has to find her. And he has less than twenty-four hours to do it…
Savannah Nicholls is in hiding because of a tragic mistake. Her mother insists her daughter is just a nice girl, from a good family, that she's never gotten in trouble in her life. But she also says someone knows where her daughter is. And they want to kill her.
If he's going to keep Savannah safe, Roche needs to know who is after her, as well as what she witnessed, who her enemies are, and if they have really been able to find her. But how can he protect a woman who is as invisible as he is?
Because the clock is ticking…
This totally gripping, pulse-pounding thriller is perfect for fans of David Baldacci, JB Turner and Mark Dawson.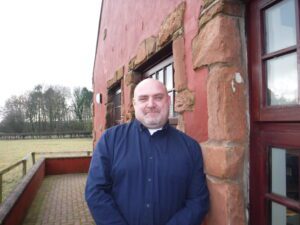 Author Bio
John Ryder is a former farmworker and joiner. He's turned his hand to many skills to put food on the table and clothes on his back. A life-long bibliophile, he eventually summoned the courage to try writing himself, and his Grant Fletcher novels have drawn inspiration from authors such as Lee Child, Tom Cain, Zoe Sharp and Matt Hilton. When it comes to future novels, he says he has more ideas than time to write them.
When not writing, John enjoys spending time with his son, reading and socialising with friends. A fanatic supporter of his local football team, he can often be found shouting encouragement to men much younger and fitter than he is.

Social Media