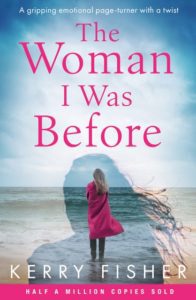 This book had me captivated throughout!
The Woman I Was Before is the story of 3 women and their families who move into a new housing development and become neighbours. It is a wonderful reminder not to judge or make assumptions about other people. Each chapter is told through the perspective of one of the women and we discover that their lives are not as perfect as they appear on social media.
Kate is a paramedic and very private. She doesn't have any social network profiles and is frantic that her teenage daughter wants to post online.  But why, what is she hiding?
Gisela's days are spent drinking champagne and spending almost indecent amounts of money. She is a social butterfly, welcoming to all but friends with few.  In reality she is struggling to deal with her children's choices and her life is far from prefect.
Sally is child free and care free. Except she is desperate for a child and her husband refuses. Will her desire for a family ruin her marriage?
I was utterly absorbed by the lives of these women and the book is so clever for showing that our Insta-perfect world is a false representation, often hiding a painful truth. It has such a powerful message about the dangers of judging others. The book is so well written that I felt like I knew these women and really cared about the heartbreak they all experience during the course of the book.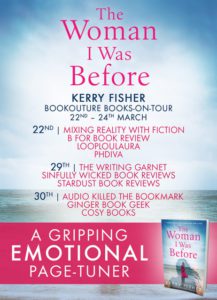 The Woman I Was Before by Kerry Fisher
Buy Links:
A new home can be a happy ending. Or a fresh start. Or a hiding place…
Of all the emotions single mother Kate Jones feels as she walks into her brand new house on Parkview Road, hope is the most unexpected. She has changed her name and her daughter's, and moved across the country to escape the single mistake that destroyed their lives.
Kate isn't the only woman on the street starting afresh. Warm, whirlwind Gisela with her busy life and confident children, and sharp, composed Sally, with her spontaneous marriage and high-flying career, are the first new friends Kate has allowed herself in years. While she can't help but envy their seemingly perfect lives, their friendship might help her leave her guilt behind.
Until one day, everything changes. Kate is called to the scene of a devastating car accident, the consequences of which will test everything the women thought they knew about each other, and themselves.
Can Kate stop her own secrets from unravelling, or was her hope for a new life in vain?
From the bestselling author of The Silent Wife, The Woman I Was Before is a book about the things we hide from those closest to us – and the terrible consequences that keeping those secrets can have. Perfect for fans of Jodi Picoult, Liane Moriarty and Diane Chamberlain.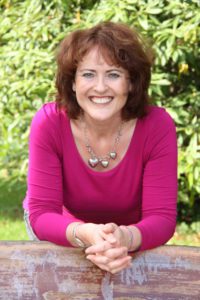 About the author
Kerry Fisher is the bestselling author of five novels, including The Silent Wife and The Secret Child. She was born in Peterborough, studied French and Italian at the University of Bath and spent several years living in Spain, Italy and Corsica. After returning to England to work as a journalist, she eventually abandoned real life stories for the secrets of fictional families. She now lives in Surrey with her husband, two teenage children and a naughty Lab/Schnauzer called Poppy.