Pearl has mixed emotions when her estranged father dies. Their relationship deteriorated when he left his first family to set up a second, and now thetre is no chance of a reconciliation. Now Pearl is given a bequest in her father's will and it reveals secrets that make her re-evaluate the past and her present…
The Woman Who Came Back To Life is an emotional novel about the twists and turns of love and life, intricate family relationships, and the bravery needed to face the past and the future.
Pearl Flowers has an unhappy past with very strained relationships with her family. Her father's death and bequest leads her to re-establish relationships with her siblings as well as others from her past that she thought were lost forever. However this puts pressure on her marriage to Denny as she pulls away from his protective security.
The book is written from Pearl's and Carrie's first person perspectives which give us an intimacy into their lives and situations. The narrative tone is naturalistic and has lovely touches of humour which soften the pathos of the plot. The family relationships vary from completely estranged to teasing exchanges, long lost love and new beginnings. There is plenty of grief at all that has been lost but also thankfulness for the love left behind.
The Woman Who Came Back To Life is a wonderfully warm novel about accepting the past and looking to the future.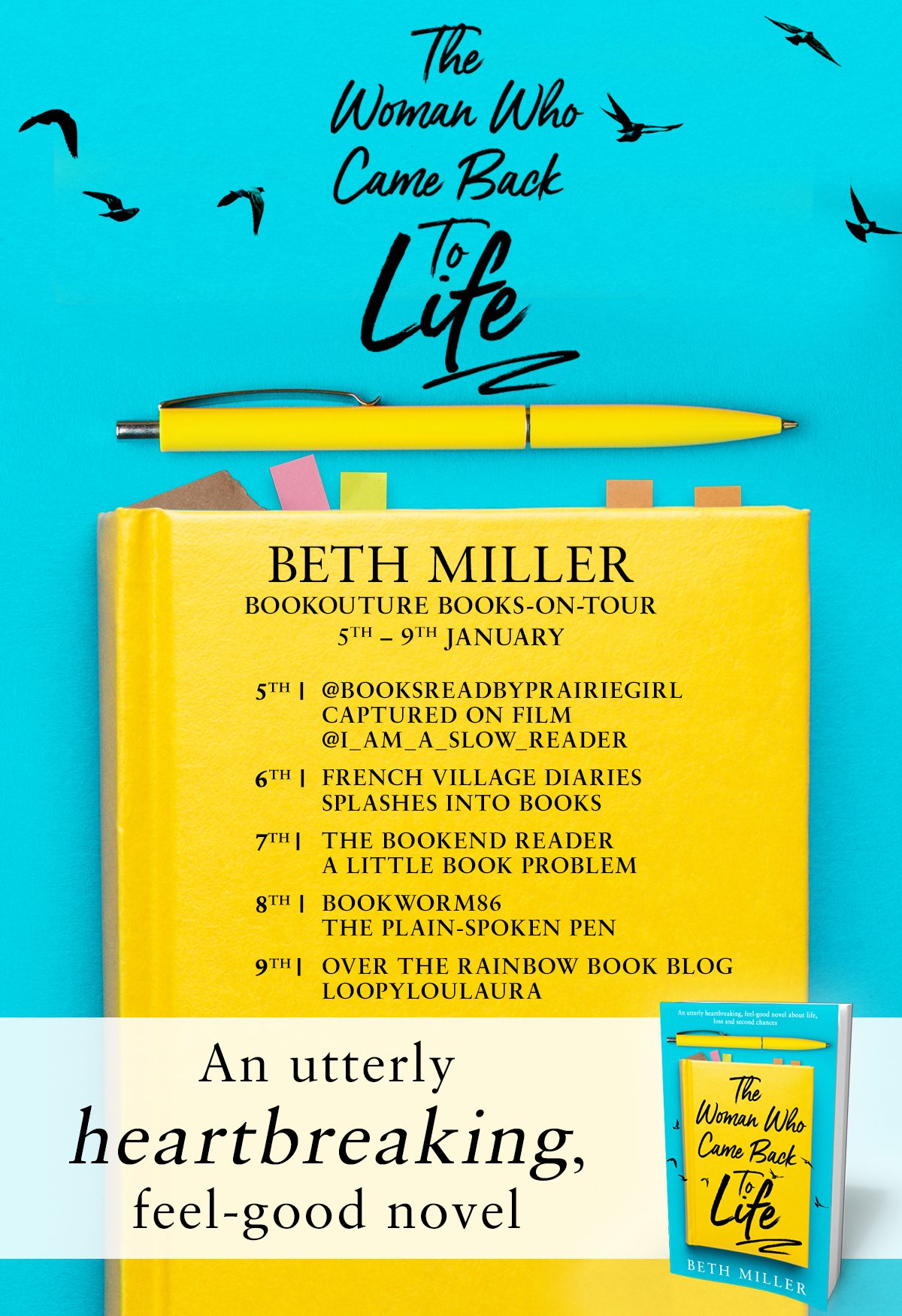 The Woman Who Came Back to Life: An utterly heartbreaking, feel-good novel about life, loss and second chances by Beth Miller
ABOUT THE BOOK
It's never too late for a second chance at happiness…
Pearl Flowers has been hiding away for so long that she has forgotten what real life is like. Her quiet routine in a woodland cottage in France is a sanctuary, far away from her past life running a beauty salon. But even when she is sitting at the foot of a beech tree with her drawing pad, surrounded by birdsong, her mind is never still. If she keeps herself distracted and far away, her past can't hurt her… can it?
But then an unexpected phone call throws her calm world into chaos. Back in the UK, her estranged father Francis is dying. She hasn't seen him for decades since he pushed her away and destroyed their family. And on his death-bed, Francis leaves her a gift – a diary, written in a code that only Pearl can understand.
As she begins to read her father's diary, Pearl discovers that for forty years he had been thinking of her almost every day. And as she reads on, secrets begin to emerge from the pages causing her to question everything she thought she knew.
Reeling from the diary's revelations, Pearl realises that the only way to heal and find true happiness is to face the past. But is she ready to confront her deepest secret, the one she's been running from all this time?
This utterly tear-jerking and heartwarming novel is for anyone who knows it's never too late to find happiness. Fans of Matt Haig, Mike Gayle and Camille Pagán will fall in love with this beautiful, feel-good story.
BUY LINKS
AUTHOR BIO
I have been told that I write like a tall blonde, so that's how I'd like you to picture me.
I've published five novels. The most recent, 'Starstruck', came out in August 2021. The previous one, 'The Missing Letters of Mrs Bright', was a top twenty Kindle bestseller. I've also published two non-fiction books. I work as a book coach and creative writing tutor.
Before writing books, I did a lot of different jobs. I worked in schools, shops, offices, hospitals, students' unions, basements, from home, in my car, and up a tree. OK, not up a tree. I've been a sexual health trainer, a journalist, a psychology lecturer, a PhD student, a lousy alcohol counsellor, and an inept audio-typist. I sold pens, bread, and condoms. Not in the same shop. I taught parents how to tell if their teenagers are taking drugs (clue: they act like teenagers), and taught teenagers how to put on condoms (clue: there won't really be a cucumber). I taught rabbis how to tell if their teenagers are druggedly putting condoms on cucumbers.
Throughout this, I always wrote, and always drank a lot of tea. I'm now pretty much unbeatable at drinking tea.
AUTHOR SOCIAL MEDIA