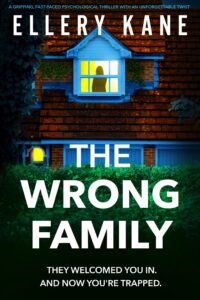 Hallie has grown up in foster care after the death of her mother. Now an adult, she tracks down her father via a DNA testing website. Robert is thrilled to meet her and immediately invites her to stay in his luxurious home with his family and work in their restaurant. But Hallie is keeping secrets, and she's not the only one…
The Wrong Family is a psychological thriller set in America.
Hallie has had a tough past and is used to living on her wits. But with no family, no boyfriend, no job and no home, she has hit rock bottom. Her biological father offers her a fabulous opportunity to join his family and business but it is too good to be true. Hallie hasn't been honest about the successful life she portrays but a number of sinister events prove to her that the Thompsons have their own dangerous secrets.
I liked the spark in Hallie. She is brave and goes for what she wants, yet also has a softer and vulnerable side. There is A LOT of build up in this book as clues and events pile on top of each other to create an uncomfortable atmosphere. It is interesting that Hallie isn't to be trusted but she could also be in danger at the same time. I did want the pace to speed up a little although I thought the tension was created and maintained effectively.
One additional element that I enjoyed were the letters and emails from other Robert Thompsons that are interspersed through the main narrative. This was an interesting extra and added some light relief.
The Wrong Family is an intriguing and tense psychological thriller.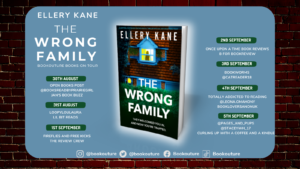 MEDIA PACK 
Title: The Wrong Family
Author: Ellery Kane
Pub date: August 30th 2023
BUY LINK:
DESCRIPTION
He tells you he's your father. He welcomes you into his family. And now you're trapped…
I've never met my father. It was always just me and Mom, so when she died, I was completely alone. But today, years since I first mailed my DNA to Family Ties, I finally have a match. They've found my biological father.
When I meet 
Robert

, he's warm, dependable, sturdy. I'm desperate for him to like me. I want to be part of his perfect, high-flying family more than anything.
Except, I'm not so sure they 
are 

perfect. Every day, strange things go wrong in the Thompsons' grand Lake Tahoe house. A family photo is found burning. Robert's car is tampered with. My mother's necklace goes missing.
Though that's nothing compared to the horror of finding the huge family portrait violently slashed in its ornate gold frame… But someone is trying to blame me for everything—all eyes are on me. I can't run now.
And then I receive an email from Family Ties that makes my blood run cold.
Robert Thompson is not my father.
Now I'm trapped in a house full of strangers, with no idea who I can trust. And I'm terrified my life is in grave danger…
An absolutely unputdownable psychological thriller packed with twists that will leave you reeling. Perfect for fans of 
The Family Upstairs
, 
The Happy Family
 and Shari Lapena.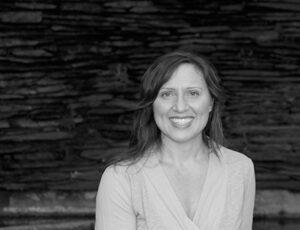 Author Bio:
Forensic psychologist by day, novelist by night, Ellery Kane has been writing–professionally and creatively–for as long as she can remember. Just like many of her main characters, Ellery loves to ask why, which is the reason she became a psychologist in the first place. Real life really is stranger than fiction, and Ellery's writing is often inspired by her day job. Evaluating violent criminals and treating trauma victims, she has gained a unique perspective on the past and its indelible influence on the individual. And she's heard her fair share of real life thrillers.
Ellery lives in the San Francisco Bay Area of California, a picturesque setting that provides the backdrop for many of her novels. If you don't find Ellery interviewing murderers behind prison walls or pecking away at her latest novel, she is probably at the gym landing a solid jab-cross to a punching bag; riding bicycles with her special someone; or enjoying a movie the old-fashioned way–at the theater with popcorn and Milk Duds.
Ellery was previously selected as one of ten semifinalists in the MasterClass James Patterson Co-Author Competition, and she recently signed a three book deal with Bookouture for her new Rockwell and Decker mystery thriller series. The first book is scheduled for release in 2020.
If you'd like to receive a notification when new books are released, please sign up for Ellery's newsletter at 

ellerykane.com

. Ellery also signs e-books on 

authorgraph.com

.