In the days leading up to the anniversary of her husband George's death, Bea Beaumont misses him more than ever. Rattling around the historic stately home that they shared, she makes a wish for George to return. George Beaumont's ghost appears but it is the wrong ghost…
The Wrong Ghost is an utterly charming warm spirited ghost story. It is a novella so quite short but completely captivating!
Bea is griefstricken and trying to cope with the looming anniversary of George's death. Her wish for George to return goes awry when a different George's ghost appears. This is a 400 year old ancestor and Bea learns to appreciate his character even as she mourns her own George.
I was swept up in the story which is in the finest Dickensian tradition. Christmas and ghosts, what more do you need?!
There is a subtle and gentle humour alongside the intense grief so the overall tone is light hearted. I wanted to know more about the ghosts but there was enough to whet my appetite and I loved the mix of historical and present day detail. The ending made me smile…
The Wrong Ghost is a quick read but will capture your heart this Christmas.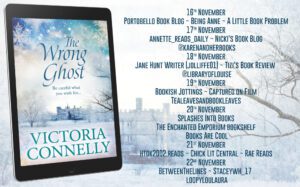 The Wrong Ghost
When Beatrice Beaumont loses her husband, George, she finds herself raising their young daughter alone in the ancestral home, Ketton Hall, deep in the Suffolk countryside. With Christmas approaching and marking the first anniversary of George's death, there's nothing Bea wants more than to have him back again.
One night, she makes a wish for him to return and gets the shock of her life when a ghost appears. But it isn't her George…
The Wrong Ghost is a delightful Christmas tale, full of warmth and charm, perfect for a dark winter's night in a cosy, candle-lit room.

Purchase Links

Author Bio –
Victoria Connelly lives in a 500-year old thatched cottage in rural Suffolk with her artist husband, a springer spaniel and a flock of ex-battery hens. She is the million-selling author of two bestselling series, The Austen Addicts and The Book Lovers, as well as many other novels and novellas. Her first published novel, Flights of Angels, was made into a film in Germany. Victoria loves books, films, walking, historic buildings and animals. If she isn't at her keyboard writing, she can usually be found in her garden either with a trowel in her hand or a hen on her lap.
Social Media Links –
Instagram: @victoriaconnellyauthor
Facebook: @victoriaconnellyauthor