Two criminal brothers are relieved when one of the key witnesses against them is found dead at the bottom of a cliff. But were they responsible? DI Drake leads the investigation into the murder of a man in Northern Wales.
Time To Die is the 10th police procedural book to feature DI Drake but the first that I have read. There are no spoilers about events or plots from previous books in the series.
The case itself seems pretty easy to solve. Maybe too easy… Jason Ackroyd was the key witness in an upcoming court case and the thugs that he was due to testify against are thoroughly unpleasant. However, both have alibis even if they are rather flimsy, and Drake doesn't believe things can be quite this simple.
This was the first time that I have met DI Drake and I really liked him so now want to catch up with the earlier books in the series. His work and home life seems quite balanced unlike a lot of detectives so this felt refreshing! I enjoyed the Welsh setting, language and culture included in the book (I am heading to North Wales on holiday this year so was scoping out the landscape thanks to this book!)
Time To Die is an enjoyable police procedural novel.

Time to Die (Inspector Drake Book 10)
A dead body discovered on a popular beach. A local community traumatised. Everything points to two evil brothers. But can Detective Drake find the evidence?
Welsh Inspector Ian Drake is called to the discovery of a body of a man on a popular beach. The dead man is due to give evidence in an important trial of two vicious criminals and suspicion immediately falls on both men. But Drake faces the challenges of unravelling the dead's man family and discovers everything is not as it seems.
As another witness in the important case is killed Drake's superior office is convinced the known felons are to blame. And when a suspect linked to the dead man's wife absconds Drake believes he has the culprit.
But the discovery that witnesses exists changes everything. Can he find them before the killer?
Time to Die is the tenth book in the dynamic Inspector Drake crime series. If you like police procedurals, clever mysteries, and gripping page-turners, then you'll love Stephen Puleston's unnerving whodunit.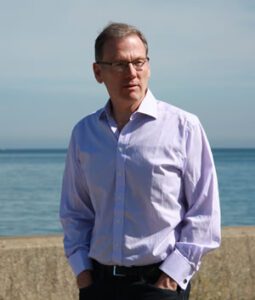 STEPHEN
PU
LESTON
Stephen Puleston was born in Holyhead/Caergybi, Ynys Môn, in Wales. After leaving university he trained and practised as a lawyer.
He is now a full time author presently writing two crime series. Both are based in Wales, a country rich in history and spectacular scenery.
The 

Inspector Ian Drake

 books involve a detective inspector based in North Wales, the area where he was born and raised, who faces his own demons while solving gruesome murders.
The 

Inspector John Marco

 series follows the adventures of John Marco an inspector based in Cardiff, the capital of Wales. He's from a Welsh-Italian family catching the killers at large in the bustling city of Cardiff.
All the novels in the Inspector Drake and Marco series are available as audiobooks. All are narrated by experienced professional actors.
Stephen lives with his family in Ynys
Môn/Anglesey.