TRIGGER WARNING: this book deals with infertility, miscarriage and teen pregnancy
A diverse selection of women in a support group for infertility in 2010, all desperate for a child. A pregnant teenager in 1976, sent away from her family in shame.
Waiting For The Miracle is a hugely emotive book about pregnancy that will really tug at your heartstrings.
In 2010 we are introduced to a range of women with varying fertility issues. Caroline has endometriosis. Natalie is a lesbian. Janet has multiple failed IVF cycles. Ronnie is a mystery… In 1976 we meet Catherine who falls in love with Justin, the son of a judge but when she gets pregnant he denies everything. She is forced to live with nuns but desperate to be reunited with Justin and have her child in a family setting.
Both timelines are completely absorbing and I was emotionally involved and included in all stories. The group of women in the support group are shown in the third person so we can experience their emotions individually and collectively. Catherine's perspective in the 1970s is provided to us in the first person so that we are in the story with her. I did find it shocking that such outdated social expectations and patriarchal behaviours were still practised around the time I was born.
This book really shines a light on the beauty of human nature in the friendships the women share and that Catherine finds with some of the girls at the convent. The power of hope gives the women courage and I found myself desperately wanting a happy ending for all of the main characters. However the shadow of the social stigma attached to both unplanned pregnancy and infertility taints the positive emotions in the book.
Waiting For The Miracle is compelling reading but heartbreaking too. I was totally immersed in the characters' lives thanks to the skill of the author's writing style.

Waiting For The Miracle book blurb
2010

Caroline has hit rock bottom. After years of trying, it's clear she can't have children, and the pain has driven her and her husband apart. She isn't pregnant, her husband is gone and her beloved dog is dead.

The other women at her infertility support group have their own problems, too. Natalie's girlfriend is much less excited about having children than her. Janet's husband might be having an affair. And then there's Ronnie, intriguing, mysterious Ronnie, who won't tell anyone her story.

1976

Catherine is sixteen and pregnant. Her boyfriend wants nothing to do with her, and her parents are ashamed. When she's sent away to a convent for pregnant girls, she is desperate not to be separated from her child. But she knows she might risk losing the baby forever.

Anna McPartlin's new novel is a powerful and poignant exploration of motherhood, filled with unique and unforgettable characters, as funny as it is moving, and as poignant as it is wise.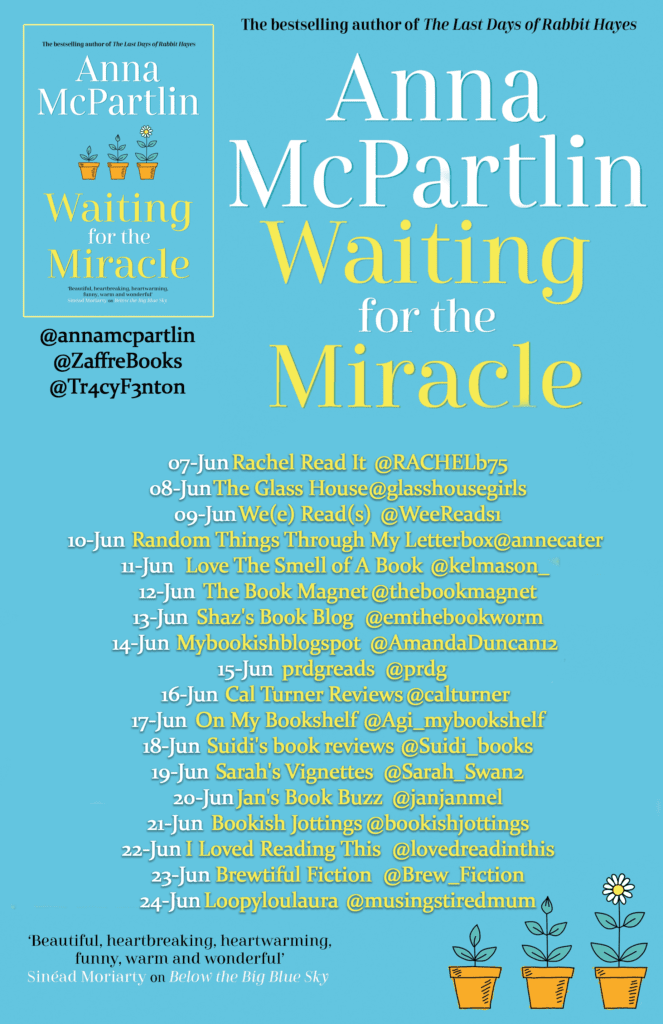 About the author:
Anna McPartlin grew up in Kerry and Dublin. She lives in Wicklow with her husband, a musician. Before becoming a full-time writer she worked in insurance – and as a stand-up comic. As well as writing fiction, she also writes TV scripts. Anna believes that even the darkest times have their lighter moments and she tells tales that are authentic, deeply emotional and yet often deeply funny.