A military man kills his wife before committing suicide. When Detective Eleanor Raven retrieves the body, she discovers a hand leading to a case underpinned by cannibalism. In a seemingly unrelated case, the bodies of six dogs are discovered and a human murder swiftly follows…
What She Knew is the third book in the Eleanor Raven series. There are numerous references to the previous books so I would advise reading them in order if chronology is important to you. (I have only read the second Perfect Little Dolls).
Eleanor is still a tenacious but deeply flawed woman. This puts her at odds with the press and her own colleagues, but definitely her superiors find her frustrating! Her own mental health is in question following events in previous books: can she trust her own judgement?
There are three main strands of plot for Eleanor to unpick. First is the murder-suicide of Eddie Myles, then there is the convicted killer admitting to new victims, and finally the teenager escalating from animal killings to human. She is thwarted by the first case as the military crowd her out of the investigation. Skepticism plagues her attitude to the second.
The third case is the main one in my eyes. We see some third person perspective of the killer and this makes him human and scary. He is a believable character which makes him seem more dangerous. HIs mental fragility contrasts with Eleanor's force of personality.
The action and plot get underway straightaway and pushes on relentlessly across the pages. What She Knew is an engaging crime and detective thriller with a strong female lead and complex plot.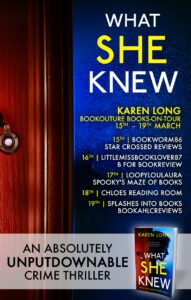 CURRENT Media Pack
Author:      Karen Long
Book:                   What She Knew
Publication Day:  March 15th 2021
Buy LINK  
Audible:
Description:
With the sound of the doorbell, the past she ran from catches up with her.
Baby on hip, Angela Myles hums as she lays out breakfast before the school run, when an unexpected knock on the door stops her in her tracks. But when she sees the familiar face through the peephole, she immediately tries to run with her kids out the back door. Because Angela knows her visitor, she knows why they're here, and she'll never give up her children.
Hours later, as the police talk softly to Angela's terrified children, trying to unpick her last moments, they wonder what other secrets she was hiding from those around her. And then another woman goes missing. How many more will pay the price for Angela's silence?
Absolutely unputdownable. A gripping, heart-pounding read for fans of Lisa Gardner, Rachel Abbott and Cara Hunter.
What She Knew was previously published as The Cold Room.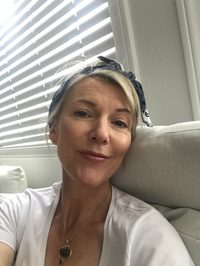 Author Bio:
Karen Long was born in Wolverhampton but has spent the last few years living in California. She worked as an English and Drama teacher for many years, before becoming a full-time writer.
Karen has written screenplays and articles, but primarily dedicates her time to writing crime fiction and observing wildlife. She loves to travel, which is a great source of inspiration; Toronto became the backdrop to the Eleanor Raven series of thrillers after Karen spent several months there.
A passionate conservationist and lover of the crow family in particular, she has rehabilitated and adopted ravens, crows, magpies and rooks, many of whom became integrated into family life, much to the distress of household members and soft furnishings. She now volunteers regularly at Los Angeles Oiled Bird Care Centre.
Author Social Media Links