TRIGGER WARNING: this book deals with sexual topics including necrophilia
An embalmed body is found on a Canadian landfill site, sparking an intense investigation for Detective Eleanor Raven. She is recovering from the emotional and physical damage from her last case and needs to focus on the present as other potential victims go missing…
There is a lot of fallout from the previous book which I have not read. Perfect Little Dolls works well as a stand alone book but I think I would have enjoyed seeing Eleanor's character journey. I'll be honest and say that Eleanor is not immediately likeable due to her confrontational personality, however I had definitely warmed to her by halfway through the book.
Eleanor has complex relationships with her colleagues. Guilt and bruised egos fester away and isolate the characters from each other. Eleanor feels like her personal life is under scrutiny by her work partner after revelations in the last book led to the endangerment of her life but she continues to follow her physical needs.
We know from quite early on who is responsible for the discarded body. I was a little disappointed by the ending as I wanted more explanation of the killer's motives. Having followed him throughout the book, I felt invested in his story so it felt abrupt and left unanswered questions. Indeed, I almost cared about him as I felt there must be some emotional basis for his actions.
Perfect Little Dolls is a fascinating book due to the uniqueness of the lead detective and the perspective of the killer. However, it is not always an easy read due to the intensity of the topic and grisly details of body preservation.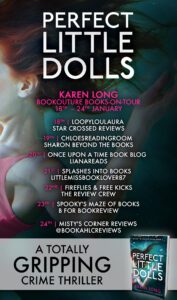 Media Pack
Author:      Karen Long
Book:                   Perfect Little Dolls
Publication Day:  Jan 18th 2021
Buy LINK  
Description:
The little boy played with his toy trains in the bedroom, keeping quiet so as not to wake his mother. He stayed silent as he watched his window creaking open and heard the whisper from outside. A minute later, Tommy and the trains were gone.
An unrelenting heatwave sweeps the country and starts a fire which uncovers the charred remains of a young woman. But when DI Eleanor Raven attends the post-mortem it reveals some disturbing details—the girl was dead long before the fire, her body had been lovingly preserved before being dressed up, her hair perfectly arranged, and a lime-green scarf knotted around her neck.
With little evidence surviving the fire, Eleanor and her team have no solid leads. But back on duty after six months' enforced leave, Eleanor is determined to prove herself fit for service, and she won't accept that this case could prove impossible.
Following a tenuous link to an old missing-persons case, Eleanor discovers the poor woman's identity: Giselle Baker was a young dancer at a local bar before she disappeared two years ago, leaving behind a worried roommate and, concealed amongst her things, a curious wooden carving of a snake. Before Eleanor can uncover the significance of the toy though, another woman goes missing, and then, a little boy… It seems that someone is collecting a family for themselves.
As Eleanor battles her own demons, she pushes herself to the limit to find the killer. But her fight to save his last innocent victim may become a battle to save herself…
A totally gripping, fast-paced mystery thriller that will leave your jaw on the floor. The next rollercoaster read for fans of Lisa Regan, Angela Marsons and Robert Dugoni.
Perfect Little Dolls was previously published as The Vault.

Author Bio:
Karen Long was born in Wolverhampton but has spent the last few years living in California. She worked as an English and Drama teacher for many years, before becoming a full-time writer.
Karen has written screenplays and articles, but primarily dedicates her time to writing crime fiction and observing wildlife. She loves to travel, which is a great source of inspiration; Toronto became the backdrop to the Eleanor Raven series of thrillers after Karen spent several months there.
A passionate conservationist and lover of the crow family in particular, she has rehabilitated and adopted ravens, crows, magpies and rooks, many of whom became integrated into family life, much to the distress of household members and soft furnishings. She now volunteers regularly at Los Angeles Oiled Bird Care Centre.
Author Social Media Links