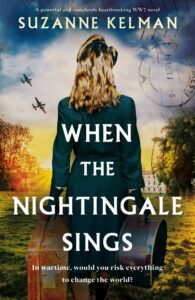 1997 Judy receives an award at Cambridge University, desperately hoping her former friend will attend the ceremony. 1937: Judy meets Hedwig Kiesler, a Jewish woman who has fled her husband and the Nazis. Hedwig reinvents herself as Hedy Lamarr, becoming a famous film star. She never forgets Judy but will their friendship survive the war?
When The Nightingale Sings is an historical novel set in Europe and America during the 1930s and 40s. It is based on the real life film star Hedy Lamarr which gives this an extra poignancy.
Judy and Hedy appear to be complete opposites yet their friendship is immediate. Judy completes her degree at Cambridge and then goes to work in a lab. But she is frequently undermined and dismissed by her boss because she is a woman. Hedy seems to have more power and opportunity in Hollywood. However she is passed over for serious roles and praised for her beauty rather than her intelligence.
Neither woman is satisfied with the roles that women are allowed. I felt really emotional at how they are judged and constrained by stereotyped gender roles of the historical period. Both women have extraordinary scientific minds and want to put them to use for the war effort. They have to fight for recognition in a male dominated world.
The book is written with alternating chapters from each woman to show the developments in their lives, some of which are tragic. Many chapters end with letters and telegrams between the two which give a more personal insight as they are direct and emotional commentaries on the events we have just read about.
When The Nightingale Sings is an excellently engaging and warm story of two women fighting for equality and recognition for their intelligence. I have previously reviewed Under A Sky On Fire by Suzanne Kelman.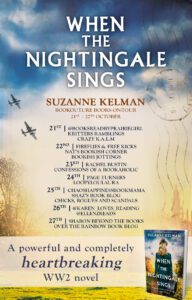 When The Nightingale Sings book description:
1937, Europe and America. Based on a true story, this powerful novel about wartime courage and extraordinary friendship, tells how two women changed the fate of the Second World War and the course of history.
When an impossibly shy young woman named Judy Morgan finishes her studies in Physics at Cambridge University, it is with dreams of changing the world for the better.
Meanwhile, a beautiful, young Jewish woman decides to flee her beloved Austria, changing her name to Hedy Lamarr, and risking everything to get to America, as far away from the Nazi threat as possible.
A powerful friendship is formed when the two women meet in pre-war London. Judy's passion for science a perfect match for Hedy's brilliant talent for invention. So when the world is gripped by a war that nobody could have imagined in their worst nightmares, both Hedy and Judy know they must act now.
As their lives repeatedly collide, in Cambridge, California, Pearl Harbor and beyond—throwing both their lives into danger and tragedy—Judy and Hedy both find themselves seeking ways to end the war.
But neither of them will know that one of them is on a path of tragedy. A path that could change the outcome of the war, but also threaten their friendship forever…
Fans of The Ragged Edge of Night, My Name is Eva and Beneath a Scarlet Sky, will love this unforgettable story about love, courage and devastation set in World War Two Britain, Hollywood and Pearl Harbor. Based on two true stories of amazing 'hidden women' who changed the world, this novel shows the power of friendship in the darkest hours of history.
Author Bio:
Suzanne Kelman is a 2015 Academy of Motion Pictures Nicholl Finalist, Multi-Award-Winning Screenwriter and a Film Producer. As well as working in film she is also an International Amazon Bestselling Fiction Author of the Southlea Bay Series – The Rejected Writers' Book Club, Rejected Writers Take the Stage and The Rejected Writers' Christmas Wedding. Born in the United Kingdom, she now resides in Washington State.
Buy Links: