Britain in 1940. The Blitz is anticipated with dread. Children are evacuated from cities, men go to war. Three women step up to work for their king and country. Lizzie plots plane raids, Diana mans barrage balloons and Julia is a secretary in the war office.
But on the personal side, Lizzie has a heartbreaking past, Diana has led a quiet life due to her father's shellshock, and Julia is battling loneliness with her husband fighting abroad and her children living safely in the countryside.
Under A Sky On Fire is a wonderful historical novel about the Blitz in war torn London. I enjoyed the developing friendship between the three main female characters. The horror of war is counterbalanced by the Blitz spirit of the women and other characters. As a mother and wife, the danger and fear was really easy to imagine so I felt an emotional connection with the female leads.
Each of the women's lives has changed dramatically since the start of the war especially in the disruption of their normal family lives. However, Lizzie and Diana have a chance to find love and happiness if only they can prevent the past getting in the way. The romances are very different but are both affected by the drama of war.
Winston Churchill makes an appearance but it is the everyday life of London that is the star of this book. There is a natural and realistic feel to the writing and plot so I feel that the author Suzanne Kelman has done a great job with her research.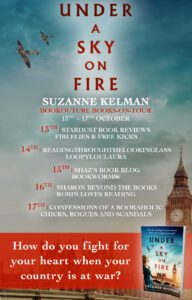 SUZANNE KELMAN Media Kit:
Title:  UNDER A SKY ON FIRE
Publication Day: Oct 13th 2020
Author:   Suzanne Kelman
Buy  Link:
Description:
The child stood in the road wearing a blue flannel nightie, her feet bare and dirt-splattered. Her blonde flyaway hair was golden, aglow from the fires that lit her up from behind. Stumbling over, Lizzie reached her side. The little girl's eyes were closed, her palms facing upwards. If she'd been in church, you would have thought she was praying.
September 1940, London
As the German Luftwaffe begin a terrifying bombing campaign that will come to be known as the Blitz, thousands are evacuated to safety. But Lizzie Mackenzie finds herself heading towards London.
She knows she must help in the war effort. But she has another reason for leaving the security of her Scottish village: the illegitimate child she gave up for adoption nearly five years before is somewhere in the city. And – as the bombs rain down – she will stop at nothing to find her and make sure her little girl is safe.
Then she finds herself trapped in a dark theatre during a bombing raid, where she meets Pilot Officer Jack Henson. Against all her instincts, she falls in love. But what chance is there for that love to flourish? Because if he discovers the secret shame of her past, he may never forgive her. And with Jack facing the enemy every day in the sky, and Lizzie's job guiding pilots into battle – life and love has never felt so fragile.
Until a chance encounter with a little orphaned girl changes everything, forcing Lizzie to ask herself what truly matters. Because, in the darkest days of war, every life counts. And – when tragedy strikes – saving one child's life might just give Lizzie a reason to survive…
An unforgettable story about sacrifice, love and heartbreak set in World War Two London during the Blitz. If you liked All the Light We Cannot See, My Name is Eva and A Fire Sparkling, you will love Under a Sky on Fire.

Author Bio:
Suzanne Kelman is an Amazon International Bestselling author in America, United Kingdom, Canada, and Australia. Her WW2 historical fiction books "A View Across the Rooftops" and "When We Were Brave," together have sold over 150,000 copies and are published by Bookouture – an imprint for Hachette U.K. Her third WW2 Book, Under A Sky on Fire, publishes October 13th, 2020. Kelman's books have also been translated into five languages.
She is also the author of the bestselling book, "The Rejected Writers' Book Club", published by Lake Union, which is the first book in the Southlea Bay series. Other books in the series include, "Rejected Writers Take the Stage" and "The Rejected Writers' Christmas Wedding".
Kelman is an award-winning writer/screenwriter whose accolades include the Best Comedy Feature Screenplay Award from the L.A. International Film Festival, the Gold Award from the California Film Awards, and the Van Gogh Award from the Amsterdam Film Festival.
In 2015 her script, Held, was recognized by the Academy of Motion Pictures and was shortlisted to the top ten in the Academy Of Motion Pictures Nichols Fellowship competition.
As well as a screenwriter and a published author, Suzanne is also a playwright, and her award-winning comedy play, "Over My Dead Body", had its World Premiere at Outcast Theatre in Washington, Fall 2019.
Born in the United Kingdom, Suzanne now resides in Washington State.
Author Social Media Links: