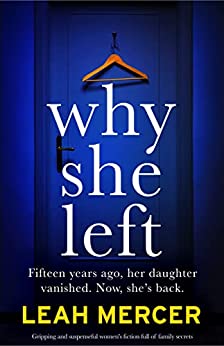 Isobel Cosslett turns up on her mother's doorstep fifteen years after walking away from her family. Now she is escaping an abusive relationshp and has nowhere left to turn. But Isobel is haunted by the past and now the present is dangerous too for her and her son….
Why She Left is a domestic drama novel with elements of psychological thriller.
The book is wirtten from two perspectives: Ruth in the first person and Isobel in the third person. I thought this was an interesting way round to have the narration as Isobel is more prominent so allowed more of a balance betweeen the two women.
Ruth is the headteacher of an exclusive London school which had been on her family for generations. Her daughter Isobel ran way 15 years earlier but is now forced to return to escape a violent lover. The women begin to rebuild a tentative relationship but a crisis occurs surrounding Isobel's son Isaac which sets the women against each other.
Secrets form a major part of the plot and character development. Isobel has been severely affected by her past which she has kept hidden from everyone else. Now Isaac is keeping secrets and Ruth tells lies to maintain her family's and school's reputation. Can they rebuild their relationship again and what danger are they facing?
I had some sympathy for both Ruth and Isobel. They both act out of family loyalty and duty but the caring side of their natures have not been allowed to flourish except for with Isaac. Twists and revelations continue until right up to the end of the book, leaving both women shocked and confused as the truth is uncovered.
Why She Left is an intriguing book about the damage that lies and secrets can cause. I have previously reviewed A Mother's Lie by Leah Mercer.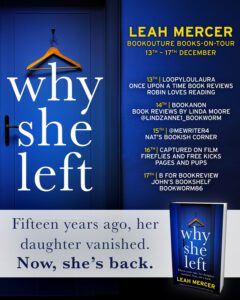 Why She Left
Leah Mercer
Out 13th December 2022
Book blurb
When I open the door and see her, my mind starts churning. Why are they here? What do they want? And why did my daughter leave in the first place? Am I finally, after all of these years, going to find out? I take a deep breath and usher them in…
Ruth has spent every day of the last fifteen years wondering why her daughter Isobel left. Walking around the school to which she has given her life, every child she sees reminds her of her family's bright future which vanished in an instant.
So when Ruth opens the door to find Isobel and a teenage grandson she never knew existed, she feels a rush of relief. Despite the years of hurt she never stopped loving Isobel and wants to help rebuild her life. Enrolling her grandson at the school, Ruth wants to make sure they stay for good.
Isobel has spent her life running from a painful secret. A secret which could have destroyed her family. Now, as she flees a bad relationship, she knows that her childhood home is the only place where she can be safe.
But as Isobel looks at her son in his crisp new uniform, she is taken straight back to the reason she ran all those years ago. Soon it becomes clear that she is not the only one tormented by the past. Someone is prepared to destroy everything Ruth and Isobel hold dear. Can Isobel confront her darkest secret before it is too late?
From the bestselling author of Who We Were Before comes a powerful and emotional page-turner about devastating family secrets. Perfect for fans of Liane Moriarty, Emily Bleeker and Imogen Clark.

About Leah Mercer
Leah Mercer was born in Halifax, Nova Scotia, on the east coast of Canada. Her first ambition was to be a journalist, but after completing a master's in journalism, she soon realised she preferred anything other than reporting the news. After trying her hand at public relations, teaching and recruitment in various countries around the world, she finally settled in London and returned to writing… fiction, this time. Her first two novels, Who We Were Before and The Man I Thought You Were, were shortlisted at the UK's Romantic Novelists' Association Awards. Leah loves books, running and visiting historic houses with her husband and their son.
Social media: