This has been an amazing but frantic week with plays, discos, work meetings and so much more. It is lovely to reflect on the happy memories this week now that we are all relaxing on our Christmas holiday.
My Sunday Photo this week is Anya as the Angel Gabriel in her Christmas play. What was a really lovely surprise for her was that Matthew was in the audience too!
I promise you we have had the heating on this week but the kids love snuggling up under a blanket!

I was given a beautiful winter bouquet from one of my jobs which smells divine and make the whole place smell of real pine, we can almost imagine our tree is real this year!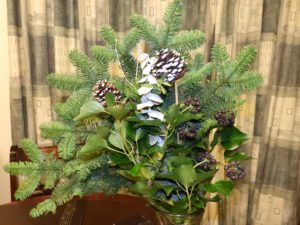 We have had an unexpected visitor who arrived yesterday. My

mother in law

was rushed to hospital on Friday (thankfully she is recovering well from her operation!) so we have her dog Jess with us for Christmas and beyond. The kids are thrilled as they adore her!
So all that is left for me to do is to wish you all a merry Christmas!