Oh my! Hot on the heels of meeting Father Christmas at Redhill and an amazing meal at

Middle Temple Hall
,

I signed up for the Blogosphere Christmas Festival to get in the Christmas spirit with some blogging friends. Another trip to London, this time leaving at 7am (I think the last time I left the house so early was on the way to my nephew's birth 6 years ago!)
I met another vlogger Sarah as I searched for the venue, we had already passed each other once! Together we found it, hurrah!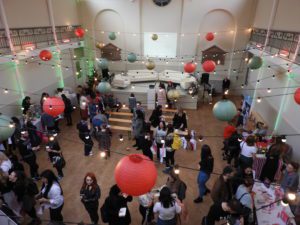 The speakers were really inspirational. I am ashamed to admit that I hadn't heard of any of them but they spoke with such passion and I have been checking out their fab blogs and social media since then!
Cans of wine. AMAZING!

There were some amazing brands present and I am getting my thinking cap on for pitches for the new year. I was particularly pleased to spot Deliciously Ella which offers vegetarian gluten free food!
I had the pleasure of meeting up with Lauretta from Home and Horizon who I met at

Blog Camp On Board

a couple of months ago, as well as Sima aka The Curious Pixie and Anna Nuttall who I'd met at Middle Temple Hall the last week.
I had a lovely time and will definitely be keeping my eye out for more Blogosphere events next year!