On my #Project365 post this week you may have seen 2 pics from the same venue: so good I went twice!
On Tuesday I had a long overdue catch up with a friend. She suggested trying the Mill House at North Warnborough and I was seriously impressed at their menus. They have clear allergen information available, making it super easy for awkward eaters like myself 🙂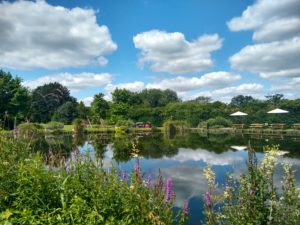 The Mill House is a 15 minute drive from my house, nestled in the Hampshire countryside. It is a grade 2 listed building dating from the 17th century but a mill on the site was even mentioned in the Domesday Book of 1086. It was last used as a corn mill in 1895 and the water wheel is still encased in the dining room (see pic below, excuse my reflection!)
We had booked in advance and sat indoors. I had informed them of my dietary needs on the booking form so they were prepared!
I chose to have the mushroom bourguingnon pie with olive oil mash, green veg and a red wine jus. I also had some chunky chips as I simply couldn't resist! The food was of such a high standard that it was almost difficult to believe it really was vegan and gluten free!
On Saturday, Anya announced she wanted to go to a castle. Chris did some quick research and discovered Odiham Castle along the Basingstoke Canal so off we set!
We parked in the village and walked along a single track road (past a duck and her ducklings) until we reached the banks of the canal and strolled along, enjoying the sunny walk.

Odiham Castle used to be a royal residence and has survived being besieged by the French. Now all that remains is a little of the octagonal keep.

Afterwards, we headed to the Mill House which was less than 5 minutes drive away. The children loved playing on the tractor and swing and there was a large open space to run around.

I opted for 2 starters this time: tempura tofu and fried peppers, served with skinny fries.

Chris went for the pie on my recommendation and was not disappointed! There is a vegan curry on the menu so another return trip is planned…