I have long been a fan of Jane Austen's novels and remember my grandparents visiting her home three decades ago and bringing me a gift. The Hampshire sign near our home say 'Jane Austen country' but it was only last week that we finally visited her former home ourselves. We also went to St Nicholas Church and Chawton House (her brother's home): post to follow shortly!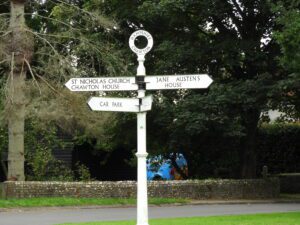 Chawton village was surprisingly easy to find , just off tthe A31. We parked in the free car park which was mostly empty at 9.45am but was packed by lunchtime!
Jane Austen's House is situated just opposite the car park. It is a large but unassuming house on the main street. We had prebooked tickets, as required by Covid guidelines. Tickets are valid for 1 year which I didn't know from the internet booking system: we'll be back!

During our tour of the garden we made a donation towards the roof. This allowed us to write our names on a tile that will become part of history!

We explored the gardens before entering the house. There is a separate outbuilding for the bakehouse which included items relevant to the time period.

I enjoyed the social distancing reminder signs!

The rooms recreate life in the hosue during the era that Jane lived there. Dotted around the house are costumes from the Becoming Jane film.

It is the personal artefacts that bring the exhibits to life and make Jane seem like a relatable woman as well as a world renowned author. The whole family are represented and I had no idea that Jane has so many brothers!

Jane Austen's House in Chawton was a lovely morning of history and heritage, and I look forward to using our annual ticket for future visits.