We recently visited Strawberry Hill House in Twickenham thanks to West London Wonders and had a brilliant time that made us want to explore more of their partner venues.
Close by, on the bank of the River Thames is Orleans House Gallery.
Once a magnificent stately home, now only a single extraordinary room remains: the Octagon Room. The gilding and chandelier are stunningly ornate.
We enjoyed storytime in the Octagon Room and the children reenacted the story of The Tiger Who Came To Tea.
We looked at the art displayed in the gallery as well as artefacts from the explorer Richard Burton. There was also a puzzle with buildings from along the Thames which the children really enjoyed.
The main point of our visit was so that the children could enjoy a range of crafts. The stables area has been tranformed into gallery space and workrooms. One stable is now Fun Land, an exhibition where everyday items are used to create art as well as give children the opportunity to be creative and interact.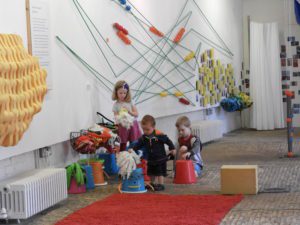 Another stable had screen painting and mask masking. The gallery is committed to encouraging art in the next generation and is well equipped thanks to the number of workshops and craft sessions that are run by talented and creative artists.
Outside in the courtyard was the chance to make a shield and throne but the children wanted to go back to the front lawn to make clay statues. Unsurprisingly, Matthew made a dinosaur while Anya made a goddess and animals.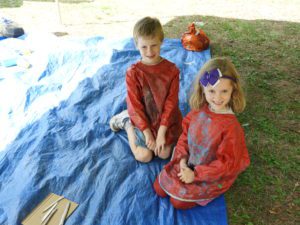 The grounds are beautiful and peaceful so we enjoyed a picnic on arrival and soaked up the sun later in the afternoon. It really was a lovely way to enjoy time together, enjoy nature, enjoy history, enjoy playing and enjoy being creative.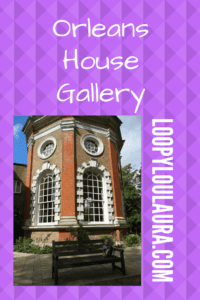 *We were invited to visit Orleans House Gallery but were not required to share our experience. All opinions and photos are my own.