We joined English Heritage recently and with Chris home this week we decided to go exploring! Farnham is very close to us geographically and I even used to work in Castle Street for a bit 12 years ago but have never visited the castle.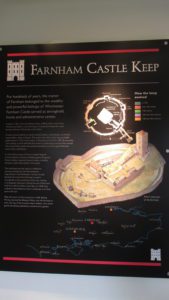 The castle is actually free to all members of the public. There are lots of stairs so a buggy is difficult to take around but once you are up in the keep the terrain is ok. Thick glass panels protect from sheer drops as the ruins have decayed since the English Civil War. Matthew was a bit nervous about some of the stairs and steep hills but gradually improved during our visit. The views are spectacular. I would have liked more information plaques telling us what parts were in the ruins so we could have imagined it in the past a bit better.
There is a small exhibition room which details the changes to the building over time and gives some information about the Bishops who resided there. There are also some replica weapons which earned some admiration from my bloodthirsty kids 🙂
Sadly we couldn't explore the gardens or more of the grounds as there was a wedding scheduled: the palace part is still a working building and is used for functions.
We had a great time exploring the castle and I loved learning about the history of the place. I think it would be nice to go and discover Farnham town centre as well next time