After a rather busy and stressful

half term
,

I was so excited to have something a little bit different and special to look forward to yesterday: Wallace and Gromit's Musical Marvels at the Hexagon in Reading.


I'll be perfectly honest: my kids know nothing about Wallace and Gromit but I LOVE the genius of Nick Park and his creations. However, the children were very excited about their first ever theatre experience.
Waiting for the orchestra to come on stage, I spotted Shaun the Sheep getting ready to play his instrument.



The first half of the production is a tour of different musical pieces beginning with Bohemian Rhapsody which was completely stunning. Anya gasped 'How did they get so good?' The music really was a marvel: fascinating for the children as they enjoyed the mastery of music displayed by the orchestra. A trip down memory lane for adults picking up and identifying the melodies.
Interpersed with the music, is a narrative of Wallace writing a concerto and trying to get it to the stage. 'Maestro Matthew' the lead on stage character interacts with Wallace on screen seamlessly.


After a brief interval, the orchestra takes to the stage again to perform the musical accompaniment to The Wrong Trousers, the second Wallace and Gromit short whch is over 25 years old!
The animation has lasted the test of time and my three were absolutely captivated. I think the train set ending was the icing on the cake for them (in particular Matthew.)

I loved the Wallace and Gromit Musical Marvels. It was suitable for the whole family and brought back such happy childhood memories whilst making new ones with my own children.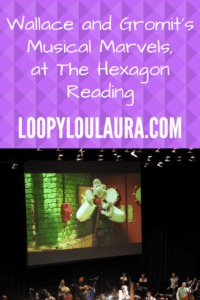 *We were given complimentary tickets for the purpose of this review. All opinions and photos are my own