I was a bit concerned that the children would have been all dinosaur-ed out after the showcaves but apparently you can never have too many dinos!
Actually, the Dinosaur Park is more than just dinosaurs.It is more of an activity park. The first ride we went on were the boats which were just brilliant.
Next we went to the fossil hunt and were allowed to take home one fossil each that we had found: this softened the disappointment from Llantwit Major a bit 🙂

There seemed to be a lot for Matthew and Anya to do but we were slightly more restricted for Zach as there were extra charges for the things that he was old enough for or the free things were a little too babyish for him 🙁 Luckily there was a soft play area indoors that all 3 of them could enjoy at the same time. Meanwhile I had a go on the 2p machines and won 3 keyrings, yay!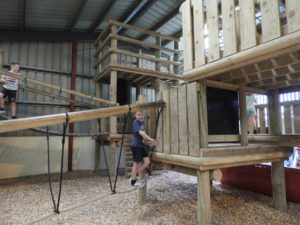 We did the chuckle maze where you have to find jokes along the way (all with a dino theme) and then went on the dinosaur walk.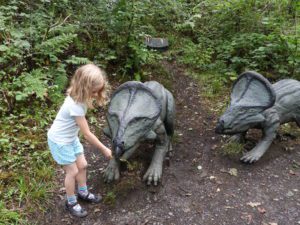 I took Zach on the huge slide. Matthew and Anya went on their own and went down about 5 or more times each! Once was enough for me as it was very fast and I ended up with a bumped back and a big friction burn on my elbow.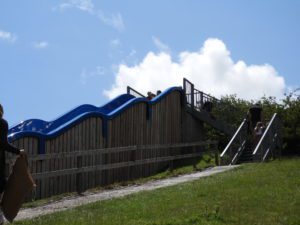 We decided to make a move and visit Pembroke Castle. I was longing to go here because it is the birthplace of Henry VII and I adore history. There was a knight school to entertain the children but to be honest they were most enthralled by the giant map and the chance to explore the grounds.
We enjoyed a treat at the cafe and I was able to try gluten free Welsh Cakes so I was very happy!
We had only little downpour of rain and took shelter in one of the halls. Zach decided to jump in puddles so was not very popular…