I am not a fan of the big outdoors. I am almost always cold or on the odd occasion too hot. I don't like rain, wind, mud, puddles, nature in general.
I have discussed in my explanation of my vegetarianism that I don't like animals. I don't want them near me. But the second I step out of doors nature's finest converge on me.
However, I do appreciate the beauty of our planet (as I hope my supermoon fixation earlier this year shows!) I love snow in particular and the way the whole world seems magical: I just don't want to be out in in for longer than 15 minutes…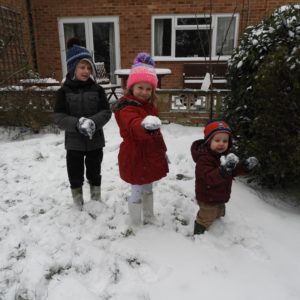 It is important for me to not pass on my idiosyncrasies to the children or restrict them in any way from developing a relationship with the world.
They love being outdoors. Walks anywhere take forever because every stick, stone and petal need to be extensively examined and sometimes carried home.
This week

we finally got some sunshine after what feels like weeks of rain! My vertigo is still refusing to go so a walk wasn't possible but we could make the most of being out in the garden:
I am always amazed that my children who frequently declare their need for more toys can be entertained for almost 2 solid hours with sticks. All 3 played in flower beds (no flowers, just shrubs!), they made dens, potions, epic battles. Zach also ate quite a bit of mud…
Once again nature conspired against me and I found a dead frog in the garden. I wanted to leave it for Chris to deal with when he got home but then remembered that I am a grown up myself. I found a trowel and dug a grave before burying the body. Moments later Matthew found the frogspawn elsewhere in the garden. I did leave that for Chris to re-locate!
Life and death.
Vital lessons for children but also for adults. The fragility of life, the appreciation of the present day, the enjoyment of simple pleasures. Imagination, hope and practicality.
Our world is a beautiful and terrible place. Nature is cruel and also creates joy.
Playing outside with adult supervision is essential for children to develop a healthy respect for the world that surrounds them, and helps with an understanding of the cycles of life that affects us all.