McDonalds is special to me and my family. Full of happy memories.
I remember every school holidays my cousins would come over and we would go to McDonalds for lunch. In the days before I went vegetarian and before I developed my wheat allergy, the Chicken McNugget was king 🙂 We took my grandparents there for their first ever trip, my grandmother asked where the cutlery was! Now I have my own family, we go every few months for special occasions. Matthew asked to go to McDonalds for his birthday this year and we went to the Bracknell restaurant which has a soft play area, yay!
But that is enough about the past and the present! McDonalds is looking to the future!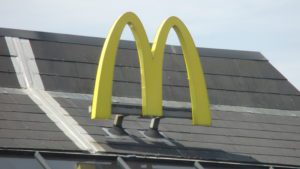 I was beyond excited at the opportunity to go behind the scenes and find out abuot the changes being rolled out across the UK. I was invited to attend the Milton/Abingdon (near Didcot) restaurant this week. It was the first time I had ever been to a blogger event so I was a bit anxious but more concerned with the drive to get there! (it went great, hurrah, my parking was not so good…)
I arrived early for a 1.30 start. The place was heaving with people. Families. Workers. Elderly couples. Teens. Builders. Businessmen in suits. The appeal of McDonalds is universal.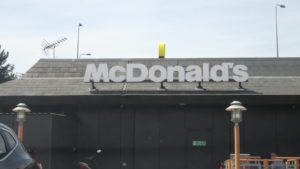 McDonalds is revolutionising its restaurants, using the latest technology to create a modern style of food and service. This is true both sides of the counter, for ordering and in the kitchen!
There are newly installed touch screens for ordering food and some have the capacity for mobile ordering and QR scanning. This allows you to order when you park and then you just need to scan and pay on entry. Payment is possible via contactless systems on your phone or other devices as well as more traditional methods (no need for my mum to panic!).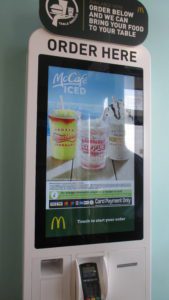 Customise! The touch screen allows options such as add or remove items from your meal deal or item. Prefer your Big Mac with no cheese? No problem.
EVERYTHING is made to order, specific to your instructions. This means less food waste for the company which is better for the planet, and also better for you as you get your food exactly how you want it! Making the customer happy REALLY matters.
The display boards behind the counter are full of clear pricing information as well as calorie counts. The images are sharp and seriously tempting!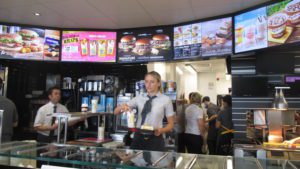 In a few choice city spots delivery has become a reality! If this option was available to me then I would certainly make the most of it!
Perfect for parents is the table service. Linked to the touch screens mentioned above, you can take a seat with your family and get settled then one of you heads to the board, does the tech and can return to your seat knowing the food will be brought to you directly. No need to juggle trays and a buggy! (actually I have never had to juggle because the staff are always super helpful and offer to carry my tray to the table, thanks!)
Tablets are available for use by anyone and free wifi is available for use on your own device.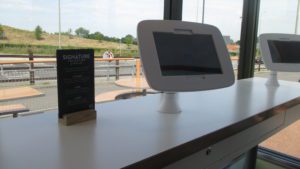 So next we headed backstage to the crew room. I haven't worn a work uniform in over 12 years but was genuinely thrilled to get my very own name badge, apron and hat.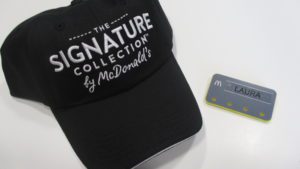 We were allowed to explore the storage areas. The huge fridge and freezer were packed full, they get deliveries everyday to ensure maximum freshness of ingredients. Milk is organic. Chicken is 100% breast meat and the beef is 100% British and can be traced back to the very cow it came from. Quality and trust as well as the latest innovations are the reason why McDonalds remains a firm favourite for every generation.
The kitchen feels small and intimate considering the vast quantity of food that is produced there. This restaurant has served thousands of Big Macs this year so far and I got to make one!
I confess now that I has no idea what went into a Big Mac. I've never eaten one! The beef is cooked on a hot plate, both sides at once for efficiency and speed. Everything has timers to ensure that the perfect cook is achieved each and every time. The salad is all laid out in order so even I couldn't get it mixed up!
I have to admit I was more than a little proud of myself 🙂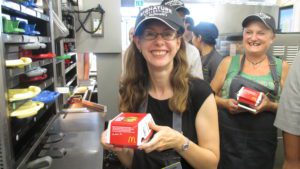 Being a vegetarian, I saved my Big Mac for the man in my life, who I know loves them! Chris is really eager to try the new signature range too which promises fantastic quality and flavours.
I had no idea about the community and charity aspects of McDonalds. I can honestly say I was massively impressed by the dedication and passion for helping local projects, national campaigns and the Ronald McDonald House Charities which support families of poorly children to get accommodation near the hospital.
The managers I spoke with had all been with McDonalds since before I was born, working their way up to their current role. They know the business inside out, they know the customers and community they are serving. Their enthusiasm and drive are pushing McDonalds to be the best it can be, and the positivity for the technological advances shows how much they value lifestyle changes.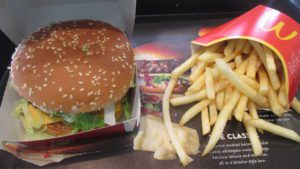 I had an amazing time at McDonalds. The staff were so friendly, the food was delicious (as always!) and I really feel privileged to have glimpsed behind the scenes.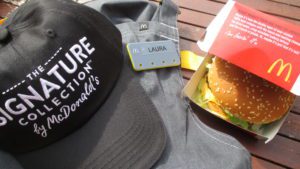 *I was invited to attend McDonalds in conjunction with Red Consultancy. This post has been sponsored but I have full editorial control so all words, pictures and opinions are my own.