Last week was my birthday and, as you may have spotted on my #Project365 post, the day didn't go to plan.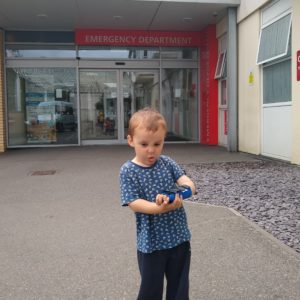 Just after lunch Zach was playing upstairs with his siblings and cousins when he fell off the bed. He had a mark on his elbow so we applied a cold compress but then he began clutching his wrist. My poor little boy was inconsolable.
Mum told me to take him to hospital to get checked (she had learned her lesson from when I broke my foot 10 years ago and walked around on it for 2 days, and didn't want Zach to soldier on).
Luckily, Chris was working from home because of a vet appointment for Ollie. Unluckily, my car was at the garage getting its MOT and service. The car seats were inside. Luckily, my cousin's youngest is the same age as Zach so we borrowed his!
Chris dropped us at Frimley Park Hospital and headed back home to work. We went straight in to reception and after being asked for a few details were sent through to the children's A&E department. We'd barely sat down when we were called through to a consulting room.
Inside, the poor nurse attempted to check Zach's arm but he was still screaming with pain. The nurse advised some pain relief so that the arm could be examined properly however the paracetamol made no difference and he advised that stronger medication be used so we were taken to a bay.
To say that Zach cheered up after some nasal morphine is an understatement! He still wouldn't let go of his wrist but the pain had gone so he was fascinated by his surroundings especially the handprint paintings on the ceiling. The nurses were secretly watching him and one said 'I know a broken wrist when I see one.'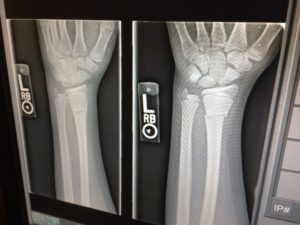 NOT ZACH'S XRAY!
We were sent round the the x ray department and were seen within 10 minutes. The staff were lovely and Zach was super brave as he sat on his own while the x rays were being taken. I was relieved to see no obvious break on the x ray.
We went back to A&E and I asked if we should go back to the waiting area but we were directed to another bay and seen by a doctor who explained that Zach has a buckle fracture of the wrist. This means that one side of the bone has been crushed or compressed but due to the youth and softness of his bones it bent rather than broke all the way across.
Moments later, Zach was sporting a blue splint and looking very pleased with himself for having a superhero gauntlet!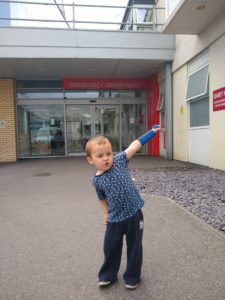 The treatment and care that Zach received was faultless from start to finish and I would love to tell the staff at Frimley Park how wonderful they are and how much their work is appreciated. I gave birth to all three of my children at this hospital and they were brilliant when Matthew fell and cut

his head

open two years ago,
Our NHS is a great institution and while there are amazing nurses and doctors like the ones I encountered we should be celebrating their tireless efforts to look after us.