It is 8 and a half years since Chris and I had our first date and nearly 5 years since we got married. Both of these major events involved Rackstraws in Sandhurst. So we decided to revisit our happy memories with a meal out and a lingering snog in the car park 😀
Lunch didn't go well. Obviously the company was incredible (love you, Chris!)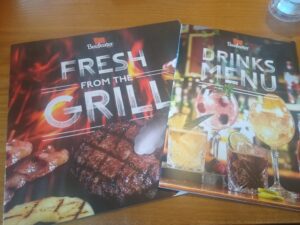 I had booked in advance and noted that I was vegan and gluten free. We were given the gluten free menu and also the allergy folder. I ordered the vegan nachos and vegan loaded fries with a Dead Man's Cherry Berry (without limes as they are not vegan).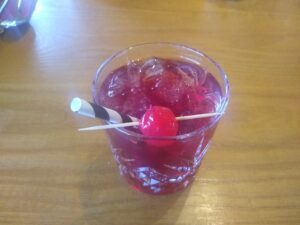 We asked for all of the food to come together, and then sat holding hands and gazing lovingly into each other's eyes… After 10 minutes, our drinks arrived and then my nachos.

They looked good although I felt the portion looked a little small considering it is meant to serve 2. The cheese looked too good. Without being rude, vegan cheese doesn't look/taste/melt 'right'. A tiny taste confrimed my suspicions that this wasn't vegan. Good job I didn't have a dairy allergy!
Still no sign of Chris' food but after 5 minutes I finally managed to hail the waiter to ask for confirmation that I had a vegan dish. He took it away and dumped it on the pass. Another 5 minutes passed before he returned and apologised profusely that he had not put my meal through the till correctly so it hadn't been vegan. He assured me that my new nachos would be ready in a couple of minutes. My vegan fries arrived 5 minutes later, finally followed by Chris' meal.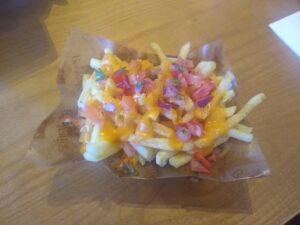 Another 5 minutes passed before a nachos dish was placed in front of me but I saw it had the Sloppy Joes on it which contains gluten so I instantly rejected it as I'd ordered the basic vegan nachos. The dish was swiftly removed.
We started munching. The fries were good: crispy and well seasoned, and I loved the '74 sauce which was tangy.
Chris wanted to order a refill drink but we were obviously being avoided by the waiting staff. Ten minutes later, I had eaten all of my fries and Chris was almost finished so I walked across the restaurant to request Chris' drink. When it was finally delivered, we had finished eating so I asked for my nachos to be cancelled and for the bill.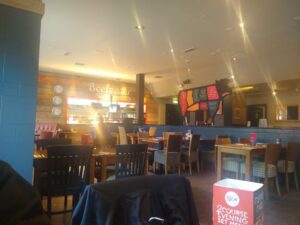 Our check had had the fries deducted as an apology but a couple of quid doesn't really cover the ruined anniversary meal, nor the fact I went home hungry and had to cook myself a meal. I also have concerns about the allergy and till training available to staff (the waiter had also failed to input the meals for the table behind us). Luckily I am a vegan for personal reasons rather than medical reasons but if I hadn't read the allergy document I could have eaten the second dish which contained gluten.
My fond memories of Rackstraws mean that we will eat there again in the future but I hope our experience leads to better training and awareness about allergies.