Something you may not know about me is that I used to be a keen puzzler. Before I had kids and when I still lived at home, back when I was Laura and not Mum most of the time.
Me and my mum even had competitions against each other to see who could complete puzzles fastest (I'm sure she still has the piece of paper with our scores somewhere…)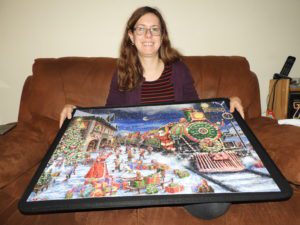 Since moving to our own home I have only done one puzzle (the kids' ones with 20 pieces don't count!) due to time and space, plus three adorable little 'helpers' who mess up my system of sorting pieces…
At Blog On in September I met up with the team from Jumbo Puzzles and it reignited my love of them! My eyes were immediately drawn to the latest Wasgij as this was a favourite series of ours and we own at least 20 of them between me and my mum.
I admit to a little celebratory dance when I was invited to join Jumbo Games for their Night In Twitter Party, woohoo! Join in at 4.30 on Thursday 7th November!
The nights are drawing in, it is cold outside and the thought of relaxing at home with a puzzle, possibly with a roaring fire, bed socks, and a glass of wine, is VERY tempting. If there is a festive theme to help me get emotionally prepared for Christmas then all the better!
I was kindly sent the Wasgij Christmas 15, Falcon deluxe Christmas, a Portapuzzle board and puzzle piece sorting trays.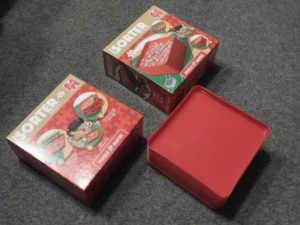 My first action was to let my mum have the Wasgij, well it was her birthday! She got to work on it straightaway!
Let me explain about Wasgij puzzles: the image on the box is not the one you construct. Instead, you make the viewpoint of one of the characters or see what will happen next. The box gives clues to help you.

Now, we don't want to spoil the surprise and give away the secret image. However an incredible bonus feature with this Wasgij was that it also contains the box image as a puzzle. That's right: TWO puzzles for the price of ONE! Here is my mum proudly displaying her box image.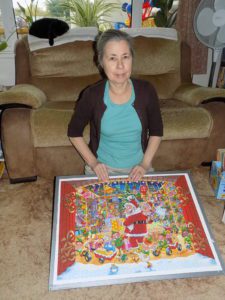 I wasn't a lovely enough daughter to share my Portapuzzle board and sorting trays! I got my puzzling mojo back with festive scenes with the Falcon deluxe Christmas puzzles. Did you notice I wrote puzzleS: Yep, that's right, again there are two for the price of one included!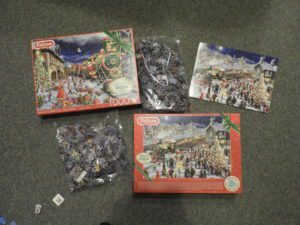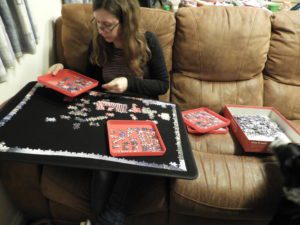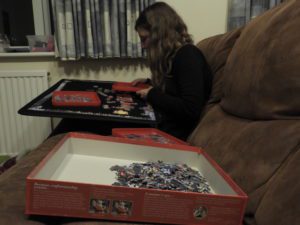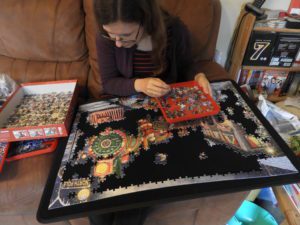 The Portapuzzle is brilliant. The surface of the board means the puzzle pieces don't slide around, and the board is large enough for a 1000 piece puzzle but light enough to carry round.
My mum and I agree that all four puzzles were really good quality. I know in the past we have had some where some pieces are still joined together but these ones were well cut and fitted together perfectly.
The puzzles are also made of recycled paper products which is fab for the environment and supports my desire to be more eco-friendly.
Have I got you in the puzzling mood? Enter my giveaway to win you own Jumbo puzzle bundl!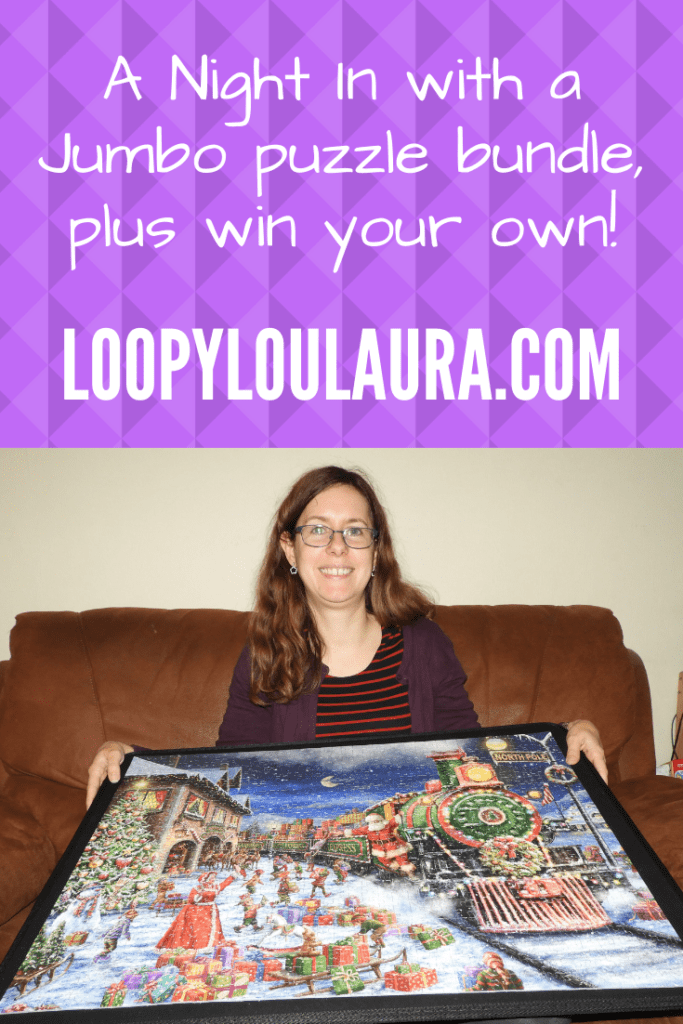 *I was sent this puzzle bundle for the purpose of this review. All opninions are my own.