Having rekindled my love of puzzles last month, I have inspired Anya to join me! Technically, I am not thrilled about this as her 'help' is often anything but, however the excitement on her face at being allowed to join in is priceless.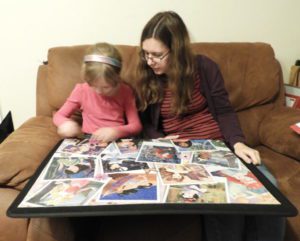 Jumbo Games sent another bundle of puzzles and games over to me which included a Wasgij, Disney Princess puzzle and a Frozen 2 game.
For those of you who don't know a Wasgij is a backwards puzzle. you have no idea what the final picture will be: it is NOT the one on the box.
Luckily, the box has clues to help you pieces the puzzle together and the designs are bright and fun.
Obviously, I will not spoil the Wasgij by revealing the picture but hers is one corner (also provided as a clue on the box so I'm not giving you any bonus help at all!)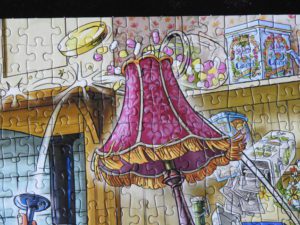 The Disney Princess puzzle was the real time that Anya and I worked together. Obviously, she adores these characters and they have bright colours that are easy to look for when sorting through pieces.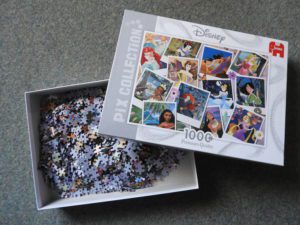 I personally think that two or more people working on a puzzle together is a bit weird but I know my housemates at uni did it! Motherhood means making sacrifices so I let Anya put in the final piece.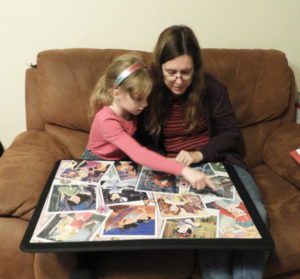 The Frozen 2 game is a lovely way to work on cooperative play as the players need to work together to save Elsa.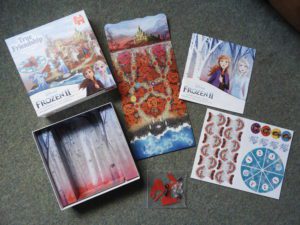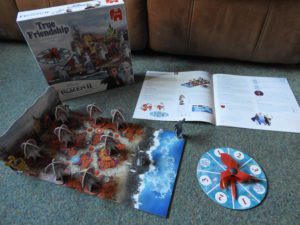 It took a little while to set up the first time we played as you need to press out all of the pieces.

The instructions are easy to understand and obviously the theme of Frozen 2 is very popular right now (I'm hoping to take Anya to see the film soon)
The wonderful thing about games and puzzles is that they can be enjoyed over and over again. For parents concerned about screentime, they offer the opportunity for alternative activities and social interation as well as working on motor skills.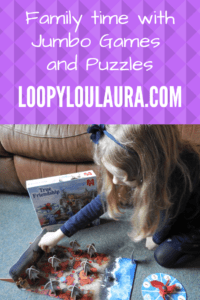 *I was sent these games for the purpose of this review. All opinions are my own.