Do you have kids aged 4-7? Do you like pasta in all its wondrous shapes? Then this series of books may be perfect for your family!

While Matthew headed back to

school

yesterday, I had some time with Anya (Zach was having a nap) and as it was Read A Book Day and almost International Literacy Day we tried a new author.

Bryony Supper has created a fun range of new characters all based on pasta and the illustrations perfectly depict the multitude of shapes. There are 2 set of characters, the Kidz and the Petz. They have their own language which is based on their name. The language is excellent for reinforcing phonics which Anya will be learning very shortly!

Anya really loved this book and giggled at the fun words. Then had to repeat them… a lot!
Spaga spow and maca mow!
(wow!)
When Matt arrived home, he insisted on hearing the story as well even though he is more than capable of reading it by himself. He laughed like a drain at the alliterative phrasing.
To be perfectly honest, the book's plot itself was secondary to the fun language and illustrations. However, once the novelty of the words wears off I think the underlining moral of giving careful consideration before acting (read instructions!!!) is a good one for children to learn as well as ideals of friendship and sportsmanship.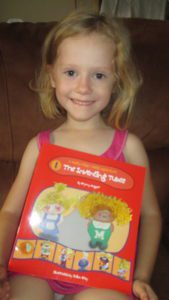 The ending of the book leaves a clue to the next book in the series: who are the Pasta Beasties…?
*We were sent this book for the purpose of this review. All opinions and photos are my own.