I'm not actually sure that I've ever made brownies before! So this was a bit of an experiment…
I am a bit dodgy with nuts and many recipes use them in brownies so I have cobbled together a recipe that avoids them: wish me luck!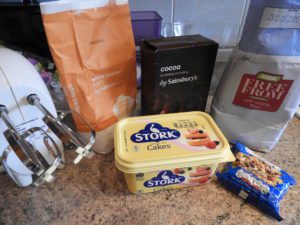 Ingredients
5oz soft butter or margarine
7oz caster sugar
2 eggs
1oz cocoa
2oz self raising flour
2oz chocolate chips
 
Method
Combine the butter, sugar and eggs with an electric whisk for 2-3 minutes.
Add the cocoa and flour. Fold in or use the whisk again.
Stir in the chocolate chips.
Pour into tin and bake for 25-30 minutes at GM5.

The top should crack and go crusty, a skewer should come out clean. If the top is ready but the brownies are still too gooey underneath then cover with foil and leave it for another 5-10 minutes.
Allow to cool in the tray, then cut into squares or slices and enjoy!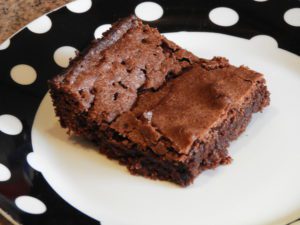 And boy, did we enjoy them! I'll be making these often from now on…