I have been taste testing wheat free pizzas and each time Chris asks me for my opinion and then desperately tries to remember what I told him so he knows which ones to look for at the supermarket. So really this is just for him but may help other people with dietary issues as well.
Here is Sainsburys' offering: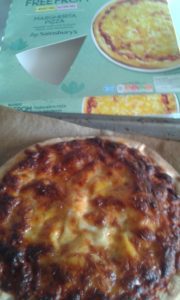 I was put off eating this pizza years ago because I had tried it a few times and it seemed really doughy and uncooked in the centre. I think they have updated the recipe because this is YUM! The tomato sauce is amazing with beautiful herb flavours. The only drawback is that is is slightly too small for my appetite! Current price is £3 for 280g.
Here is Asda's version: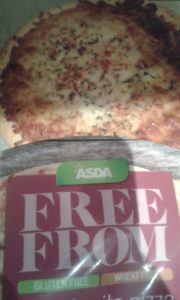 At £2.50 for 370g it is big on size and value. It is quite dry but the cheese is flaked so melts beautifully.
This is Tesco's one: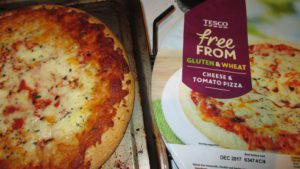 This is the pizza that I've eaten most of over the years. It is the joint biggest of all of the pizzas. It is also quite dry and bready and I like adding extra veg to the topping to balance out the texture. Just £2.20 for 370g, so best value for money. I actually have a suspicion that this is the same as the Asda one…
Chris picked up this Pizza Express in the chilled aisle at Sainsbury's:
This is the most expensive, as expected from a brand name. Current price at Sainsburys is £4.25 for 310g. Good flavours but small in size. It was also a bit floppy when cut into slices.
Dr Oetker's Ristorante Mozzarella is amazing!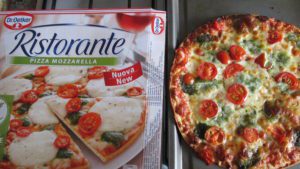 Priced at £3 for 330g. The taste is the best of all the pizzas. The base is thin and crispy, there are patches of basil which isn't too pungent or overwhelming, the sauce is fragrant with herbs and the cheese melts beautifully. This is my favourite for taste: it is the real deal, authentic Italian version and you definitely wouldn't know it is wheat free.
Oh dear Goodfella's: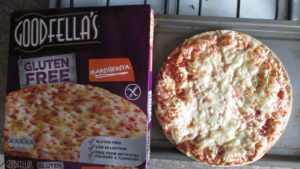 This was a huge let down. I had high expectations due to the brand name but, despite the higher price of £3 for 328g, it didn't deliver. The base was floppy and the flavour was almost non-existent. I even had indigestion after eating it which I haven't had since Zach's birth 🙁
So if I had to choose a favourite for taste it would be Dr Oetker's Ristorante or Sainsburys' version but for a really hungry day at a good price, Tesco or Asda wins.