Things have been manic recently so finding time to experiment in the kitchen has been difficult to find! I was hankering for some proper home cooked food and had some mushrooms that were glaring at me from the bottom of the fridge…
I have cooked garlic mushroom rice on the hob before but wanted something that was quicker to prepare and that I could leave to cook unattended. Voila garlic mushrooms and rice baked in the oven!
INGREDIENTS (serves 2 as main meal or 4 as side dish)
200g long grain rice
400ml vegetable stock (I used Kallo stock cube).
1 small onion chopped finely
4 cloves garlic, chopped finely
salt and pepper to taste
1 teaspoon dried Italian herbs
200g sliced mushrooms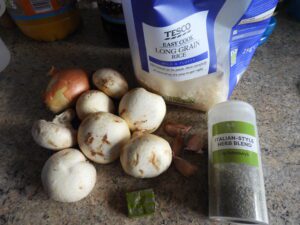 INSTRUCTIONS
Preheat oven to 180*C
Rinse the rice then place it in a baking dish.
Add the chopped onions and garlic then the seasoning and herbs. Stir together to evenly distribute then flatten out.
Spread the chopped mushrooms over the top.
Pour over the stock then cover with tin foil.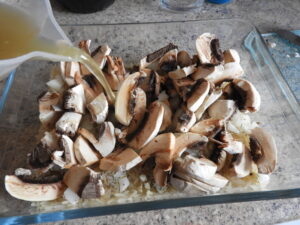 Bake for 35-40 minutes.
Remove the dish from the oven and check the rice is cooked and the stock has all been absorbed. If not give it a stir, re-cover and return to the oven for another 5-10 minutes.
Serve topped with fresh herbs (I used coriander) and some vegan cheese if you fancy it.