There are some fab vegan and gluten free sausages available now so I was trying to think of something different to do with them! A traybake only uses one dish so less effort on the washing up: thumbs up from me!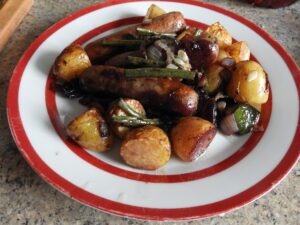 This recipe can be adapted to use up whatever veg you might have around. I think I might try this in winter with potato wedges rather than new potatoes. The wine can be replaced by stock to make it suitable for kids.
Serves 2-3 depending on appetite.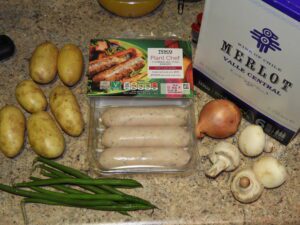 6 sausages
500g new potatoes
1 onion
500g other veg (I used mushrooms, green beans and courgette)
3 tablespoons oil
seasoning (I used onion salt, garlic granules and crushed chilli flakes)
150ml red wine or stock
1 Preheat the oven to GM7
2 Chop the veg into roughly equal sized chunks
3 Mix all the ingredients except the wine/stock in a large dish so all are coated in the oil and seasoning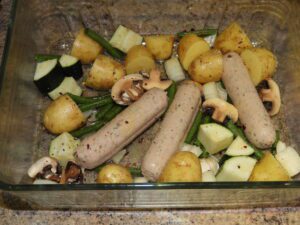 4 Roast in the oven for 30 minutes
5 Add the wine/stock, stir well and return to the oven for another 10 minutes. Stir again then cook for a final 10 minutes.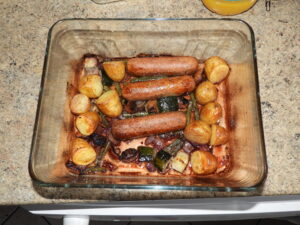 6 Enjoy!