One of my summer culinary highlights was my first attempt at sausage traybake. I loved experimenting with flavours so tried a different version with just mushrooms. You can add any extra veggies you want and try any seasoning combination.

Serves 2-3 depending on appetite.
6 sausages
500g new potatoes
1 large onion
200g mushrooms
3 tablespoons oil
seasoning and choice of herbs (I used celery salt and crushed chilli flakes initially then found some garlic and coriander so threw that in with the stock)
150ml stock

1 Preheat the oven to GM7
2 Chop the veg into roughly equal sized chunks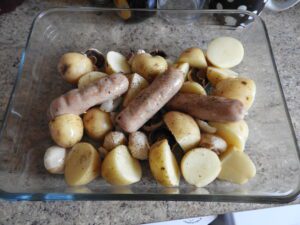 3 Mix all the ingredients except the stock in a large dish so all are coated in the oil and seasoning
4 Roast in the oven for 30 minutes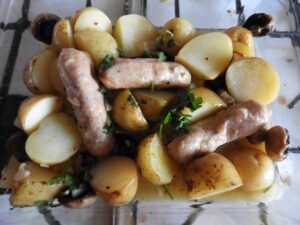 5 Add the stock (and the coriander and garlic in my case!) and stir well. Return to the oven for another 10 minutes.
6 Stir again then cook for a final 10 minutes or until the potatoes are cooked.
7 Enjoy!