Sometimes I majorly impress myself!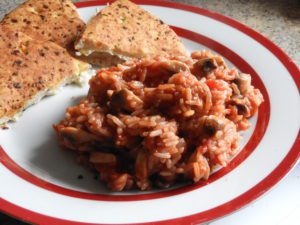 Cooking with wine always makes me feel very grown up and randomly I have gone off drinking red wine and needed to use it up! I decided to experiment with a risotto which I usually avoid making as Chris doesn't eat rice and I often think it is too difficult.
But it isn't!
This recipe is super easy and really delicious. If I were served this in a restaurant, I would be seriously happy but I made it all by myself!
Ingredients (serves 3-4)
1 tablespoon oil
2 cloves of garlic or a teaspoon of minced garlic (or to taste)
150g mushrooms
1 small onion
Pinch or two of dried herbs
200g rice
100ml red wine
A good squirt of tomato purée
1 vegetable stock cube, dissolved in 500ml boiling water
1 tin chopped tomatoes
Instructions
Heat the oil in a pan.
Peel and chop the mushrooms and onion. Fry for a couple of minutes then add the herbs and garlic.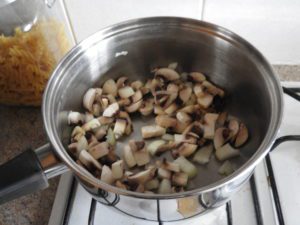 Add the rice and stir to coat in the oil. The rice will start to turn translucent.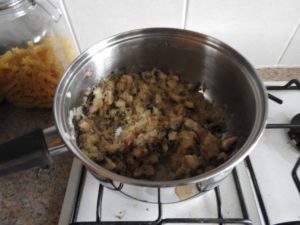 Pour in the wine and add the tomato purée, stirring constantly to prevent any of the rice sticking to the pan.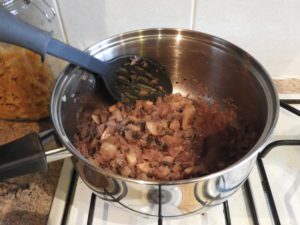 When the wine is almost all absorbed, add the stock all in one go and the chopped tomatoes.
Bring to the boil then turn down the heat and simmer for 10-15 minutes depending on the cooking time for your rice.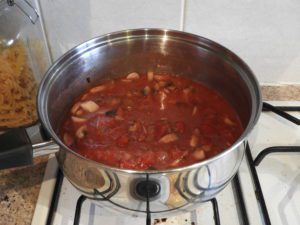 Many risottos add the stock a little at a time but I found it fine to add all of it. I did find that I stirred it every 3-4 minutes for the first 10 minutes but it started to stick a little in the final minutes so stirred every 30-60 seconds.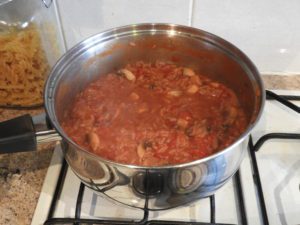 Dollop on a plate or arrange artistically! You could pimp it up with some fresh herbs sprinkled on top or a little vegan parmesan.