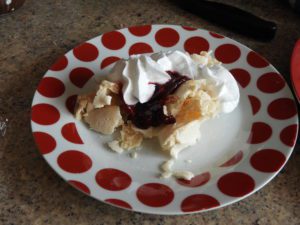 I have not made meringues many times in my life (maybe as many as 10 times if you include the topping for lemon meringue pie) but I have eaten hundreds!
Unable to find vegan ones in the shop, I started experimenting with my own after previous successes with
aquafaba
which is the usually discarded liquid from canned chickpeas. These meringues are really light and airy with a crisp shell and taste like the real thing!
Ingredients
The aquafaba (water) from 1 400g can of chickpeas (around 140ml)
100g caster sugar
Instructions
Preheat oven to GM1 and line baking trays with greaseproof paper
Whisk the aquafaba for 5-7 minutes. I advise using a stand mixer or your arms will ache!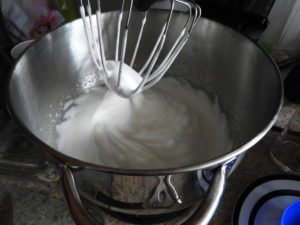 When it sits in peaks (like egg whites!), add the sugar slowly whilst still mixing.
Whisk for another 3-5 minutes until glossy and thick.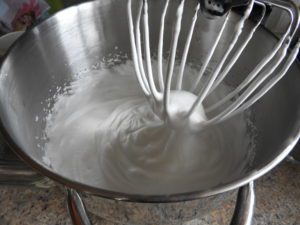 Spoon or pipe into nests or pavlova: this made a lot of meringue! Leave spaces between the meringues as it will spread out as it cooks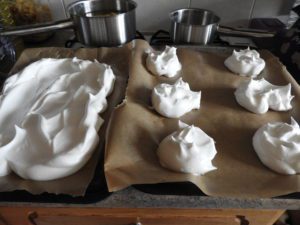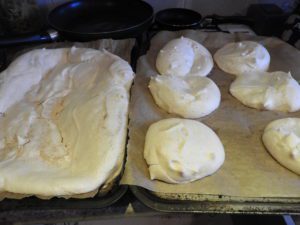 Bake for 90 minutes then turn off the oven and allow the meringue to dry out and cool
Remove from oven and enjoy or keep in an airtight container.

If you don't remove from the greaseproof paper after cooling then it will stick: perfect for eton mess…
I made a quick fruit compote using 50g each of frozen raspberries and cherries and 2 tablespoons of water.
Heat the fruit and water in a small pan and simmer for 5-10 minutes to soften the fruit skin until it breaks down.
You could blend or strain the finished sauce but I liked mine with texture.
Serve with the crushed meringues and some vegan whipped cream