Christmas lunch. Comfort food, stodgy, warming.
Not this year.
Last week I had my Christmas meal with one set of colleagues in a local pub. This has been booked since October. We had let them know of my vegan and gluten free requirements. They were supposed to phone me. On the morning of the meal I phoned them and after 15 minutes on hold spoke to the chef.
'I'm gonna do a salad. I can stick a mushroom on it'
Now I don't want to appear ungrateful but seriously, salad for Christmas dinner. A mushroom that was given begrudgingly. In the event I actually got 3, woohoo!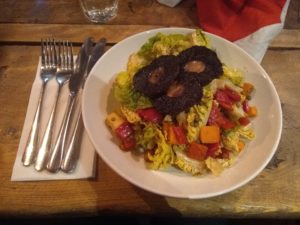 I asked about starters and desserts and got silence down the phone. Guess not then.
During the actual meal there was embarrassment. I felt singled out. The organiser felt guilty as everyone else tucked into three hearty courses. There was also annoyance bordering on anger. Why is there no allergen information on their menu and website? Why are we discriminated against for health and ethical reasons? Why are we viewed as a challenge rather than an opportunity?
'What DO you eat?'
How many times have I heard this?! Jacket potato with beans. Soups. Chillis, curries, stews, ratatouille, risotto. It is so easy to make roast or mashed potatoes vegan. A bag of gluten free pasta is easily available at all supermarkets and a quick sauce can be made sooooo easily. I have had some wonderful meals out including pies and pizzas.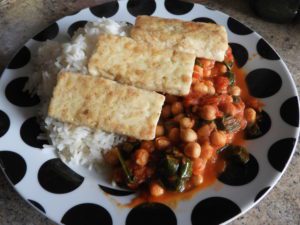 I should have sent the chef these recipes for inspiration!
It takes so little to make something vegan and gluten free. Swap dairy for plant based milk and spreads. Use egg replacer such as flaxseed or aquafaba. Fry and roast in oil rather than butter.
The problem is the mindset. Rather than an opportunity to learn new skills and develop new recipes, instead we are seen as awkward.
Please help me raise awareness that vegan gluten free food CAN and SHOULD be interesting by sharing this post!