Chris and I had a date at Pizza Express in Winchester and I enjoyed gluten free vegan doughballs (I LOVE houmous!) and a tasty pizza although I'm not sure why it had just half a cherry tomato on it…
Less exotic were the tinned goods I tried this month. Quick and easy meals and I have learnt to stick to the serving suggestion of just half a tin!
We will NOT be trying this curry from Tesco again. The flavour and texture were all wrong. The ultimate burgers from Sainsburys were good though.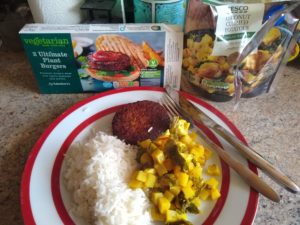 December also brought our first trip to Iceland (seriously, not sure I've been since it was called Bejam!) Sadly the turkey replacement and chocolate puds were out of stock but there were some new things to try, including burgers and sausages.
As I have stated elsewhere, I was underwhelmed with the salad presented to me for my work Christmas lunch while everyone else tucked into 3 courses. The mushrooms were a begrudged addition.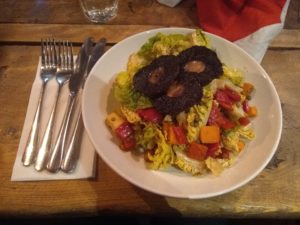 Here is my actual Christmas dinner. I am queen of the roast potatoes!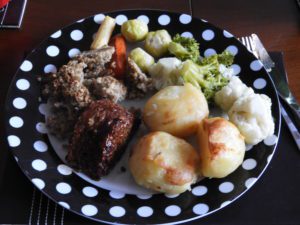 Some suitably festive snacks were these pigs in blanket flavour tortillas with a simply divine houmous (beautifully creamy and smooth). The sweets on the left are from Poundland and the ones on the right are my usual ones that cost double: the contents are the same!
Thank you to everyone that has supported my vegan journey in 2019 and I hope I have inspired some of you to try something new and consider vegan options in supermarkets and restaurants.