Have you heard of blondies? Tried vegan or gluten free dishes? Don't be scared!
We've had blueberries from our garden sat in the fridge for a while so I needed to get on and use them! I fancied a cakey dish so experimented with blueberry and chocolate flavours.

Ingredients:
1 flax egg (1tbsp flax with 3tbsp water, make 10 minutes before use)
75g margarine/vegan butter (I used Vitalite)
65g caster sugar
110g SR flour
25g each of blueberries and white chocolate buttons

Make the flax egg and set aside.
Grease a 6×6 tin and line with baking paper/parchment. Preheat oven to GM5.
Cream together the vegan butter and sugar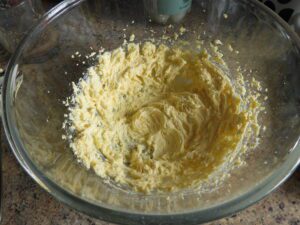 Stir in the flour and flax egg. The batter is quite stodgy!
Stir in the blueberries and chocolate.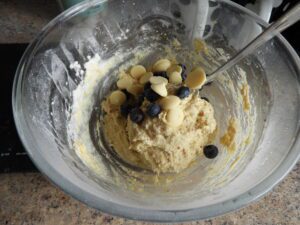 Pour (scoop) into tin and bake for 18-20 minutes.
Cut into 9 pieces. You could eat warm with vegan ice cream or cool as an afternoon cake.
I was genuinely surprised at how light the sponge was! The batter was so thick and it didn't look too good. However, it had a much lighter crumb than I was expecting from the appearance 🙂 I really liked the bursts of sweet chocolate and sour blueberry. Chris thought it looked like shortbread while in the pan…ooh next recipe idea?