Half term. The kids are exhausted but you don't want them in a zombie state in front of technology. Time for some creative fun with Milly & Flynn and Ginger Fox.
We were kindly sent a box of goodies to keep the children entertained. The Milly & Flynn products included were aimed at ages 5 + and the Ginger Fox cake mug is probably aimed at teens or adults but children can assist with mixing the ingredients.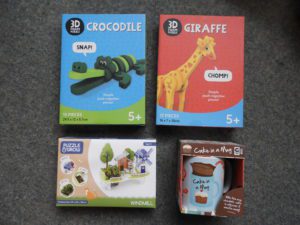 Anya and I began with the 3D foam puzzle giraffe and the boys were in charge of the 3D foam puzzle crocodile. Although aimed at children aged over 5, some of the parts were a little tricky so I would advise adult assistance (in fact I struggled with the rods for the giraffe and had to get Chris to do it!)


The 3D puzzles are very sturdy once assembled and obviously my gory kids started a game in which the crocodile began eating everything including the giraffe 😀




Anya next set to work on creating the Puzzle and Grow Windmill. I absolutely LOVE the design of this, so imaginative and clever. The creation of a real garden in a play set is so original and fun for the children to watch over half term (the excitement of seeing sprouting seeds!)

The pieces were slightly delicate as they are made from thin board, and the instructions advise taking care to avoid bending or ripping when removing from the sheets or assembling. Again, I would advise parental supervision but this is also a lovely activity to complete together anyway.
The final item we were sent was a Cake in a Mug set from Ginger Fox. I admit that I completed this on my own but then shared the finished cake with the kids who loved it! The cup is microwave (obviously) and dishwasher safe. Inside are easy guidelines for measuring the ingredients.

I adjusted the recipe to leave out the egg and used my free from flour so let me introduce my first ever mug cake which is also vegan and gluten free!

Now that I know how successful the cake in a mug is, I think it will be a regular addition to our baking repertoire and something the kids can do on their own (except for removing from the microwave as it was VERY HOT).
Boredom was well and truly busted this half term, yay!
Milly & Flynn products and Ginger Fox items are available online and through Amazon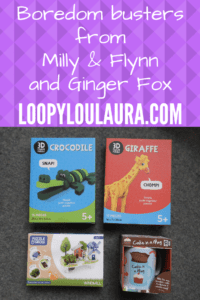 *We were sent these products for the purpose of this review. All opinions are my own.