*We were sent these toys for the purpose of this review. All opinions are our own
Anya was thrilled to discover that there are 10 brand new Cutetitos to collect! There are even some super rare ones – will we find one today?
Cutetitos are incredibly cute soft toys. They are individually wrapped and this series has shiny sparkly paper.
The smell of the Cutetitos is absolutely divine and works perfectly with the island theme. Each Cutetito comes with a blanket which has a beach motif in this series.
Each Cutetito also comes with a pet collector card which has extra information about the animals including its species, name, and birthday. There are four levels of rarity of the animals which varies from Tutti Fruity to super Tutti Fruity, For quick identification of the rarity, check the sun icon on the hip!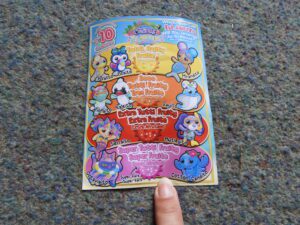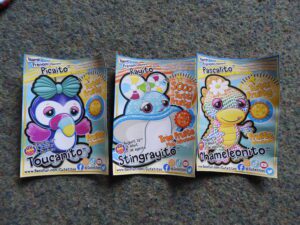 The three new friends that we unwrapped are Picaito the Toucanito, Pascalito the Chameleonito and Rayito the Stingrayito. The first two are Tutti Fruity and the last one is SoooTutti Fruity. Pascalito and Rayito share a birthday on August 16th!

Cutetitos are suitable for children aged 3 +. The RRP is £9.99 and they are available from a variety of online and high street retailers including Smyths.