Despite running this blog, computers are not my area of expertise so I jumped at the chance to learn some basic coding skills. Ahem, for the children of course 😉
Learning Resources have introduced a new range of Coding Critters to appeal to children. Just in time for Easter, the bunnies have arrived!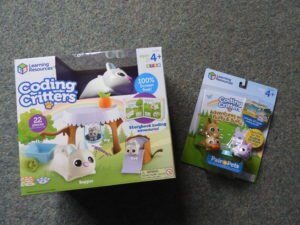 The large set has Bopper (which requires 3 AAA batteries, not included), a play set and Hip and Hop as companions. The chunky coding steps are easy to understand and follow.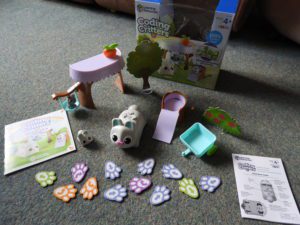 The characters are sooooo cute and the children loved playing with them on the playset as well as completing the coding activities.
The smaller set of Coding Critters consists of Fluffy and Buffy, and has a booklet of activities to work through and get the kids thinking!

The coding steps are perforated at the back of the book. My only concern would be that the paper is quite flimsy so I can imagine them get lost or torn and would suggest an adult tears them out.
Coding is likely to be an important skill for our children to develop and Coding Critters are an engaging way of teaching the basics.
Both sets are aimed at ages 4+ (Zach was only a week shy of that so I let him join in and he completely knew what he was doing!) The large set has an RRP of £40 while the smaller set retails for £7.50.
For more fun sets from Learning Resources, see my review of the primary science lab set and yuckology slime lab here.
*We received these toys for the purpose of this review. All opinions and pictures are my own.