*I received this item for the purpose of this review. All opinions are my own
Looking to keep a loved one busy this Father's Day? Want to inspire your child to enjoy STEM subjects (science, technology, engineering, maths)?
The Machine Works Haynes 4 Cylinder Engine is a fully working model of a petrol car engine. There are over 100 parts with clear step by step instructions from a Haynes manual. The finished model requires 2 AA batteries to makes the lights and sounds work.

I set my dad to work with Matthew as I thought it would be lovely opportunity for them to spend time together. I would count Dad as an expert on this type of thing!
Here are my dad's impressions on the set:
Model might well be "greatly simplified" but is well detailed and shows the main components.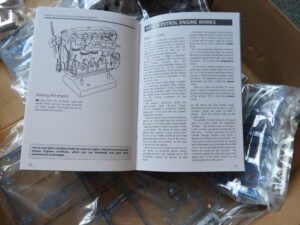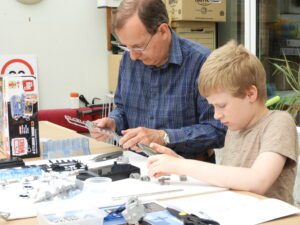 It can take 1-2 hours to make.

The inclusion of a magnetised screwdriver is a bonus.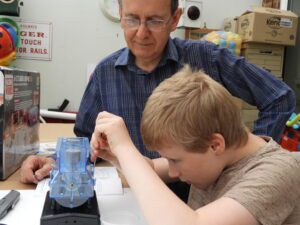 The instructions must be followed carefully even by those "grown-ups" used to tinkering with engines. Don't be tempted to skim through the instructions or you might miss important points like lightly oiling the bearings and remove the cams from the sprue in order (luckily they are all individually identifiable if you cut them all off in one go).

Just for completeness it would have been nice to have included a model of an alternator at the water pump/fan end of the engine.

Some assembly items may need more than two hands e.g. connecting rod bearing caps.

The instruction manual also gives useful background on how a four stroke engine works.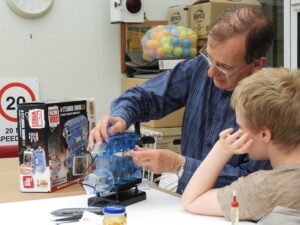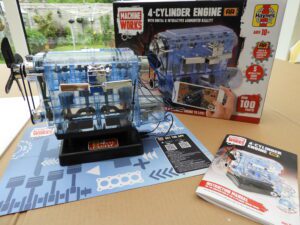 The construction of the model is paired with an augmented reality app that gives further information about internal combusion engines. It includes animations and exploded views of the components.
The RRP of the Machine Works Haynes 4 Cylinder Engine set is £39.99. The set is available from numerous retailers including Argos, Amazon, Maplin and Menkind.