The Rubiks Cube is an iconic game from my childhood. This Christmas, a third of parents surveyed have said that Rubiks makes a perfect stocking filler and I agree!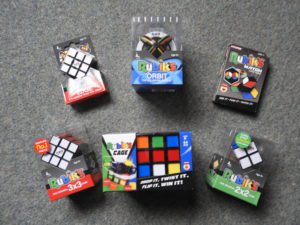 Let's begin with the original and classic 3 x 3 cube. Infuriatingly fascinating for children and adults alike!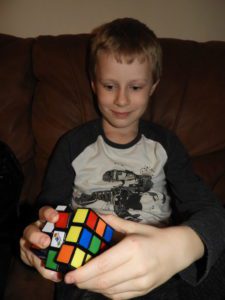 Who thinks the 2 x 2 cube will be easier? Not me! We still haven't solved it! I am not ready to give in and visit their website for help and hints: I am determined!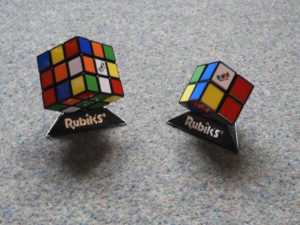 I also really like the stands that come with the 2 and 3 squared puzzles. Perfect for displaying your solved cube if you manage it or to simply look stylish and stop them getting lost!
The single layer Rubiks Edge 1 x 3 game was achievable for all of us (well, not Zach). It is one layer of the classic 3 x 3 cube and was slightly simpler to solve, unlike the Rubiks Orbit which is foiling all our attempts to return it to its original matching solution!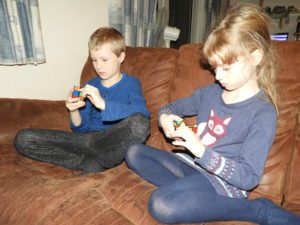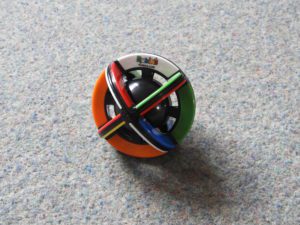 We were also sent the Rubiks Cage game. Simple instructions to make 3 colours in a row whilst preventing your opponent doing the same, even 3 year old Zach could understand and join in. Matthew and Anya enjoyed competing against each other for this game.
My personal favourite is the Rubiks Match card game. We haven't played it competitively yet but enjoy puzzling out the solutions. Some of them are VERY tricky! Development of strategic thinking and physical manipulation of the cards to create the image: fab for hand eye coordination and lots of fun!

Rubiks toys are available in all good toy stores or online (see John Adams for stockists or see the Amazon links below)
I hope #RubiksSolvesChristmas for you this year!

*We were sent these toys for the purpose of this review. All opinions are my own